Anxious?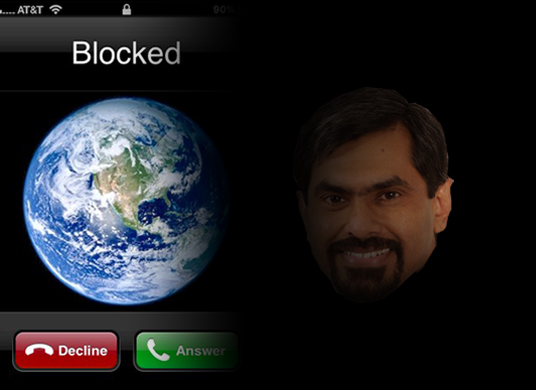 OK, I bet it's happened to you too. We are minding our own little businesses—sitting at our desks or standing in our kitchens or watching our TVs—with our cell phones in our pockets or purses. Suddenly we feel it, the bzzt, bzzt, bzzt of an incoming call or text or email.
We immediately check the phone out, but … nothing. No call. No text. No email. We check again. Did someone play the next move in Words With Friends? Nope. Someone loved my Instagram pics? Nope. Anyone doing anything on my FB page? Nope.
Nothing at all. But the bzzt, bzzt, bzzt? We swear we'd felt it.
Well, you can rest easy. You aren't alone. About 68% of folks surveyed (medical staff at Baystate Medical Center, Springfield, Mass.), feel it, too.
And it now has a name (or two): "phantom ringing," "phantom vibration syndrome," or—my favorite—"vibranxiety"!
Michael Rothberg, chief of medicine at Baystate, suggests "vibranxiety" is caused by our brain misinterpreting peripheral sensory signals. With the preconceived hypothesis—the expectation of a call or text—the brain interprets, wrongly, other signals as vibrations from the phone.
Larry Rosen, professor of psychology at Cal State Dominguez Hills, in his book iDisorder, postulates that our sense of anticipation of technological interaction, particularly with our smartphones, is so high we interpret unrelated stimuli (pants rubbing our legs? chair dragging on the floor?) as a cell phone vibration. Rosen defines "iDisorder" as "any psychological disorder that appears to be either caused by or potentially exacerbated by your relationship with media and technology"—everything from depression to mania to narcissism to voyeurism … and this weird syndrome of pseudo-cell vibration. He calls it the result of "an addictive kind of behavior." Most of those susceptible to this faux vibration tend to be heavy cell phone users who attach a lot of emotional importance to their texts/calls. Sometime this is a symptom of overwhelming anxiety, the state of being always on the edge, always worried. Vibranxiety.
Jesus had something to say about anxiety.
"For this reason I say to you, do not be worried about your life,
as to what you will eat or what you will drink; 
or for your body, as to what you will put on.
Is not life more than food, and the body more than clothing?
Look at the birds of the air, that they do not sow,
nor reap nor gather into barns,
and yet your heavenly Father feeds them.
Are you not worth much more than they?
And who of you by being worried can add a single hour to his life?
And why are you worried about clothing?
Observe how the lilies of the field grow;
they do not toil nor do they spin, yet I say to you that
not even Solomon in all his glory clothed himself like one of these.
But if God so clothes the grass of the field,
which is alive today and tomorrow is thrown into the furnace,
will He not much more clothe you? You of little faith!
Do not worry then, saying, 'What will we eat?' or
'What will we drink?' or 'What will we wear for clothing?'
For the Gentiles eagerly seek all these things;
for your heavenly Father knows that you need all these things.
But seek first His kingdom and His righteousness,
and all these things will be added to you."
Matthew 6:25–33
No more vibranxiety.
Be anxious for nothing,
but in everything …
let your requests be made known to God.
Philippians 4:6
For our God knows. Our God cares.