Attentive!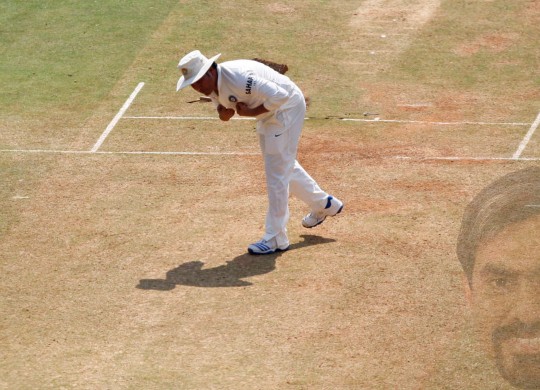 Early this month, Sachin Tendulkar retired from cricket after a spectacular career spanning 24 years!
More than half of India's 1.2 billion is under 25; they have only known the Age of Tendulkar!
Over the decades, cricket-watchers the world over—and I count myself one of those fortunate ones—have been transported by his feats, disheartened by his injuries, frustrated by his failures, and thrilled by every one of his magnificent accomplishments. Saturday, a fortnight ago, we wept with him as he bid farewell to the game that, he said, was "oxygen" to him.
Former South African opener Gary Kirsten, who played against Tendulkar and then coached him and Team India to World Cup victory in 2011 said:
I really enjoyed watching his attention to detail during preparation time. The thing that means the most to me is his absolute love affair with the game of cricket."
And, at least publicly, Tendulkar carried himself without a flaw, nary a blemish marking his very visible life. The man's reputation was unsullied. Whether they be sportscasters, umpires, or even his opponents—not to mention those behind the scenes: the managers, the bus drivers, hotel attendants, …—nobody had anything remotely disparaging to say about the maestro.
That says much not just about his character, but also about his respect for the game and the spotlight he was constantly under for 24 years.
After his last game the other day, he gave an emotional valedictory speech—nothing profound, nothing insightful. Just a thanksgiving, sincere and poignant. What struck me was his attention and respect for everything and everyone that had made him who he was.
He didn't leave anyone out: his late father, his mother, his siblings, his wife, his children, even his in-laws. But that wasn't all: he thanked his coaches dating back from the 80s, his teammates, his trainers, his doctors, his physiotherapists, his managers, even reporters and photographers! He had paid attention to all of them and he was grateful. And, of course, he didn't forget his fans.
I want to thank you from the bottom of my heart. Time has flown by rather quickly, but the memories you have left with me will be with me forever and ever, especially 'Sach-i-i-in, Sachin,' which will reverberate in my ears till I stop breathing."
To which, the crowd responded with one fervent voice, with more ardor than ever heard before: "Sach-i-i-in, Sachin!" And they wept.
He was attentive. To everyone!
As he did a victory lap around the field on the shoulders of his teammates, waving the Indian tricolor, he spotted Sudhir Gautam, one of his most passionate fans (about whom, see here). He had Gautam come down from the stands and gave him a hug.
And then …
He broke free from the huddle and walked, alone, to the center of field, to the pitch. The crowd grew quiet. Bending low he touched the ground with both hands and brought his palms to his heart. And wiping away tears, Sachin Ramesh Tendulkar walked away from cricket.
He was attentive. To everything!
In this season of Thanksgiving here in the U.S., let us not be forgetful of the seemingly small things.
In everything give thanks; for this is God's will for you in Christ Jesus.
1 Thessalonians 5:18
After all, whatever we have accomplished, it is only by God's grace.
What do you have that you did not receive?
1 Corinthians 4:7
Give thanks for everyone and everything!
P.S. Soon afterwards, the Indian government conferred on Tendulkar the Bharat Ratna, India's highest civilian award—the first time it was awarded to a sportsperson.