Bad?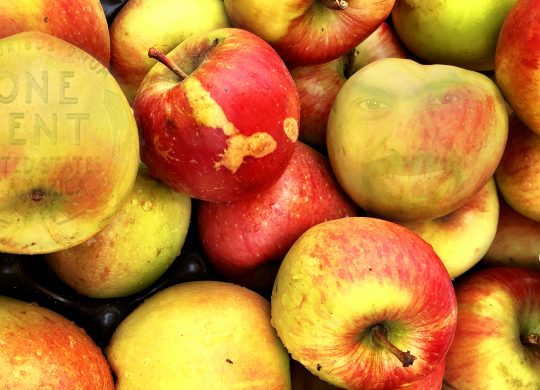 "Bad" fruit has gotten a bad rap. I'm not talking of rotten stuff, but those pieces of fruit—and vegetables—with cosmetic dents and scars. Ugly f&v are a part of life on the farm. These specimes are perfectly edible and delicious, and just as nutritious as their blemishless fellows. But their cosmetic challenges have relegated them to a position off the shelves of retail grocery stores, and they are consigned to landfills as food waste.
Until now.
Wal-Mart is taking the lead to rehabilitate the Cinderellas of fruits and veggies. A few months ago, America's largest grocer decided to pilot the sales of weather-dented apples in many of its Florida outlets … at a discount.
Announced Shawn Baldwin, Senior VP for global food sourcing, produce, and floral, fro Wal-Mart U.S.:
We're excited to announce that after months of discussion, a brand of apples from Washington state, called 'I'm Perfect,' will make its debut in Walmart stores. We're proud to be the first retailer to bring these apples to you, sold in 2- and 5-pound bags."
Apparently 20–30 percent of produce in a given year has been reported to end up as cosmetic-related losses.
But U.S. retailers are coming around to seeing "the inner beauty of gnarly produce." Giant Eagle announced a similar pilot program to market less-than-perfect produce in its Pittsburgh stores. So did Whole Foods, in some of their Northern California outlets.
But as JoAnne Berkenkamp, senior advocate for food and agriculture at the Natural Resources Defense Council wryly observed:
It's hard to get bigger than Wal-Mart."
With over 4,000 U.S. stores, the Walton behemoth has the potential to change the market. Indeed, earlier this year, Wal-Mart began selling "Spuglies"—weather-damaged potatoes—in ye olde state of Texas.
Just like God.
He uses broken people. In fact, Jesus uses a broken and bruised person as an example of discipleship in Mark 12.
And sitting down opposite the treasury,
He observed how the crowd was putting money into the treasury.
And many rich people were putting in much.
And one poor widow came and put in two small copper coins, which is [equivalent to] a penny.
And summoning His disciples, He said to them,
"Truly I say to you that this poor widow put in more than all those who put in [money] into the treasury,
for they all put in from their surplus, but she from her lack,
all whatever she had she put in, all her life."
Mark 12:41–44
A widow, the species of which had been just described as being victimized by religious leaders.
And in His teaching He said,
"Beware of the scribes who like to walk around in long robes,
and [receive] greetings in the marketplaces, and foremost seats in synagogues,
and foremost places at banquets, who devour the houses of widows,
and in pretense pray long [prayers]; these will receive greater judgment."
Mark 12:38–40
A widow, penurious, gives her all—"all whatever she had," "all her life."
This after Jesus had used a number of all's to declare the two greatest commandments.
"You shall love the Lord your God with all your heart and with all your soul,
and with all your mind, and with all your strength."
Mark 12:30
And this woman had done it. She was the paragon of loyalty to God. She gave "all her life."
What matters in God's sight is not what a person is or has, his or her state of brokenness or wholeness, but that one's commitment and devotion to him. Even "ugly fruit" are perfectly acceptable to God.
For that matter, who isn't ugly?