Bequest!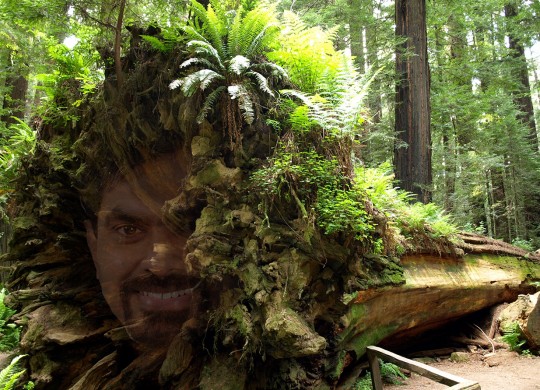 A couple of weeks ago, on my way to Mt. Hermon, in Northern California (for a DTS conference), I got to spend a week on the northern coast of that state, north of San Francisco. Accompanied by my two nephews, we decided to see some big trees and paid a visit to the Redwood National Forest, five hours drive from SF.
Quite a sight! The Sequoia sempervirens, the coastal redwood, is one of the tallest trees on the planet. "Hyperion," the biggest of the lot measured about 380 feet a few years ago; "Helios" and "Icarus" aren't far behind: 376 and 370 feet, respectively. Of course, the lay public has no idea where these trees exactly are; the National Park Service keeps their location secret for obvious reasons: to keep them safe from gawkers like me!
This wasn't my first glimpse of these magnificent pieces of flora. But I learnt something new.
For one, they are so tall and so big, over the vast number of years of their lifetimes, their huge limbs can actually accumulate organic soil/debris, on which—get this—other large trees can flourish. Growing from halfway up the sky. Even plants that are normally found on the forest floor thrive in these hovering nurseries, as well as invertebrates, mollusks, earthworms, and amphibians!
That caught my attention. These trees, big, huge, gargantuan monsters themselves, aid and abet the growth of others. Talk about giving of themselves!
"In everything I showed you that by working hard in this manner you must help the weak and
remember the words of the Lord Jesus, that He Himself said,
'It is more blessed to give than to receive.'"
Acts 20:35
Of course, Jesus expounded on this eloquently. To help the week and needy is, in a sense, to help the Lord.
"For I was hungry, and you gave Me [something] to eat;
I was thirsty, and you gave Me [something] to drink;
I was a stranger, and you invited Me in;
naked, and you clothed Me;
I was sick, and you visited Me;
I was in prison, and you came to Me."
Matthew 25:35–36
And so we are to …
Bear one another's burdens, and thereby fulfill the law of Christ.
Galatians 6:2
Which law, of course, is that regarding love for our neighbor.
Through love serve one another.
For the whole Law is fulfilled in one word, in the statement,
"You shall love your neighbor as yourself."
Galatians 5:13–14 
Indeed, such activities prove our love for God.
Beloved, let us love one another, for love is from God;
and everyone who loves is born of God and knows God.
The one who does not love does not know God, for God is love.
1 John 4:7–8
What struck me even more about the redwoods was how appropriate their biological name was. Sempervirens means "always living." These trees live a long time, of course: "Hyperion" is estimated to be about 750 years old.
But these trees are really sempervirens: always living. For you, see, even when they keel over and die, they are giving of themselves abundantly to the ecosystem. We saw several trees that had been dead for years, now completely covered over with moss, fungi, plants, other trees, serving as a habitat for all kinds of flora and fauna. In fact, the dead trees, because of the canopy effect, can remain upright for centuries, continuing to be perches and nesting sites for birds and other animals. And other mammals, reptiles, amphibians, and invertebrates thrive on the fallen giants.
Yes, indeed, always living. Always giving. Always Christlike!