Better!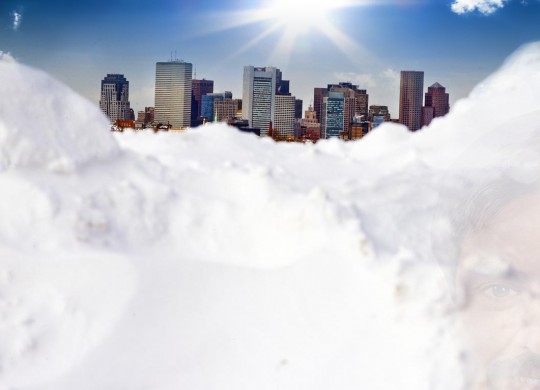 I was in the Boston area last week for a series of lectures at Gordon-Conwell Theological Seminary (GCTS) on the north side of ye olde city.
I know, I know. Boston! This time of the year. Crazy!
It took me about 2 hours to negotiate 30-odd miles from Logan Airport to GCTS the night I arrived.
Exactly 105.5 inches of snow this winter, according to National Weather Service measurements at Logan. Folks, that's more than 8½ feet of the good bad, white stuff.
But ye olde Bostonians want more. Yes, more snow! Because—get this!—two more inches will bump them over the all-time record of 107.6 inches recorded during the 1995–1996 season. They want more, these gluttons for punishment, already buried in snowcalypse! They are clamoring for more.
Having endured weeks of brutal, frigid misery, denizens of ye olde town, like Erin O'Brien, pol sci prof at University of Massachusetts-Boston, demands at least the consolation prize of bragging rights.
I want the record. We earned the record."
Otherwise, what's the point of having gone through it all?
Said AP:
More snow was expected … but the weather service was predicting accumulation of an inch or less in Boston, making it questionable that a record was within the grasp of Bostonians' mittened hands."
And quoth Bill Simpson, meteorologist for the National Weather Service:
Elusive is a good word. We're no longer in that superactive pattern. … So there are no guarantees."
Many of Boston's best took to social media, urging one and all to send up prayers for more snow. Snowfall for the year is measured from July 1 through June 30. So there's still time.
Public relations executive, Mike Spinney, on Twitter:
Have folks already given up? We've got more than a month of snow potential. We'll take the crown. Don't stop believin'!"
Not everyone concurs with this zeal for record-breaking. Folks have been breaking their backs shoveling snow from back-to-back whiteouts that have crippled public transportation, buried roads, and cost Bean Town millions. Not another snowflake, say most, like Amy Ouellette, marketing associate in Salem, north of Boston.
I really don't care if we don't beat the record for snowiest winter. I just want it over and I want spring and sun to melt it all."
Though I don't live in Boston, I'll say a hearty "Amen!" to Ms. Ouellette's sentiments.
Life!
Some badly want to hang on to this life. Others, like me, think the quicker we get outta here, the happier we'll be. Paul was one of these:
For momentary, light affliction is producing for us
an eternal weight of glory far beyond all comparison,
while we look not at the things which are seen,
but at the things which are not seen;
for the things which are seen are temporal,
but the things which are not seen are eternal.
2 Corinthians 4:17–18
And so, …
… we are of good courage, I say, and prefer rather
to be absent from the body and to be at home with the Lord.
2 Corinthians 5:8
But, whatever happens, whenever the Lord wills that we leave this habitation for the better one, until then …
… we also have as our ambition, whether at home or absent
[living here on earth, or away from it with God],
to be pleasing to Him.
2 Corinthians 5:9
For after all …
For to me, to live is Christ and to die is gain.
But I am hard-pressed from both directions,
having the desire to depart and be with Christ,
for that is very much better.
Philippians 1:21, 23
Much better, indeed!