Borne!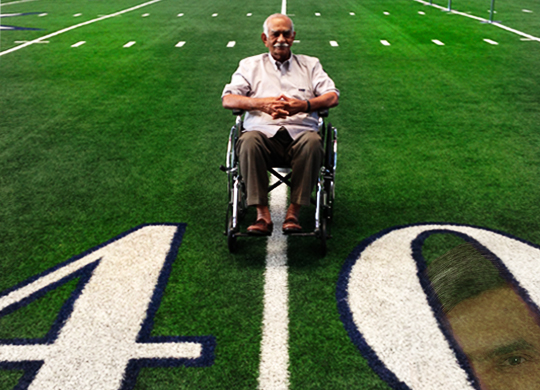 The other day my father celebrated his 85th birthday.
His older son (my only sibling) and his two grandkids surprised him by flying in to get the festivities going. (My sister-in-law was out of the country.)
Of course, one of the obligatory activities for guests visiting ye olde city of Dallas is the visit to the Cowboys stadium. Opened in 2009, this massive structure seats 80,000 (and another 20,000 for standees) and is one of the largest NFL stadiums. Apparently it is the largest domed stadium in the world! $1.5 billion! With a 2,100 inch video screen suspended from the roof, extending from one 20-yard line to the other 20-yard line!
And stadium tours take you right on to the field.
Now my father is not disabled or wheelchair-bound. But he doesn't care to walk a lot. And there is a lot of walking on the stadium tour. So we decided to haul him around in a wheelchair to keep him happy!
But I suppose his favorite mode of transportation has been the airplane. He left for Kuwait from his homeland India when he was 21. Shuttled back and forth on lot of flights. Now shuttling back and forth from the US and India almost yearly. And he's headed back to India again in a month, to escape the icy tentacles of winter. Yup, he's logged a ton of miles. Still going strong, by the grace of God. Borne by God.
"You yourselves have seen what I did to the Egyptians,
and how I bore you on eagles' wings, and brought you to Myself."
Exodus 19:4
Of course, eagles' wings are not the only fancy modes of transportation in the Bible. God apparently loves cars, if you believe what you see on the internet.
David bade the Almighty chase his enemies in a Plymouth, or, if He'd rather, in a Geo (though how that would terrify foes is anyone's guess).
So pursue them with Your Tempest
And terrify them with Your Storm.
Psalm 83:15
Of course, God already owned a pick-up (another reason to think heaven is somewhere in Texas).
"When the Ram's horn sounds a long blast,
they shall come up to the mountain."
Exodus 19:3
The Israelites were to ascend Mt. Sinai only upon said signal from said pick-up.
Scholars have also surmised that Japanese cars gained a fashionable following in the days of the New Testament. Both Jesus and his disciples, it is asserted, had a predilection for Hondas, though the former was loathe to disclose the fact.
"For I did not speak of my own Accord."
John 12:49 NIV 1984
And when the day of Pentecost was fully come,
they were all with one Accord in one place.
Acts 2:1 KJV
I also discovered, rooting around the internet, that Paul and his crowd were partial to Jeeps.
But take heed lest by any means
this Liberty of yours become a stumbling block ….
1 Corinthians 8:9 KJV
For those inclined to more gruesome scenes, there was a Dodge in the Bible involved in a horrific hit-and-run incident that presumably decapitated John the Baptist.
And he brought his head in a Charger, and gave it to the damsel.
Mark 6:28 KJV
Who knew?
But this I know:
Though youths grow weary and tired,
And vigorous young men stumble badly,
Yet those who wait for the LORD will gain new strength;
They will mount up with wings like eagles,
They will run and not get tired,
They will walk and not become weary.
Isaiah 40:30–31
Yup, I'd rather fly with those eagles. Borne by God. Like my father.