Bride!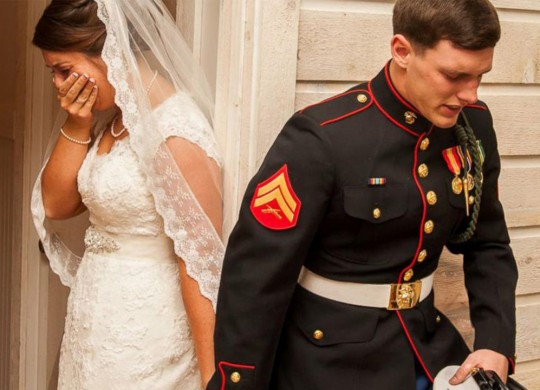 The other day a wedding photographer posted a photo on Facebook that he had taken at a recent wedding at which he was the camera guy. The photo went viral!
U.S. Marine Corporal Caleb Earwood was getting married on Saturday a couple of weeks ago, in Asheville, North Carolina. He decided he wanted to pray with his bride Maggie before the ceremony. Of course, it ain't kosher to see your bride on the day of the wedding before she walks up to you in church. So Caleb and Maggie had a problem.
Which they solved in an enterprising manner. With family and photographer, Dwayne Schmidt, helping, Caleb was led to the cabin where Maggie was getting ready for the bridal march. And, without letting them see each other, the hands of the two were joined around a corner.
Said Maggie Earwood:
They hid me in a room and he stepped up on the stairwell and he stuck his hand out and I grabbed his hand."
And, added, Schmidt, the man working the camera:
As soon as their hands touched he started getting emotional. The whole room was full of emotion. I tried not to cry and focus on what I was doing."
And there's Schmidt's product. Caleb and Maggie, turning away from each other, but joining hands. Caleb is praying. Maggie is crying.
Schmidt:
Caleb prayed for their marriage, asking that their union be strong enough to serve as an example for all young couples."
Maggie:
It broke me down to know that we felt the same way about God. It just made me happy. There were no dry eyes in the room."
59,000 likes. 9,000 shares. So far.
The couple honeymooned before they returned to Camp Lejeune in Jacksonville, North Carolina, where Caleb is stationed.
Three cheers for the couple! What a great start!
Confessed Schmidt:
So many people are emailing me, saying thank you for sharing this. It's what America is supposed to be about."
I don't know about that.
But I know this.
"Let us rejoice and be glad and give the glory to Him,
for the marriage of the Lamb has come and His bride has made herself ready."
Revelation 19:7
Jesus Christ has a bride and it is us ("we," for your grammarians), the church. And even right now, our Groom is preparing us for the big day of "the marriage supper of the Lamb."
Christ also loved the church and gave Himself up for her,
so that He might sanctify her, …
that He might present to Himself the church in all her glory,
having no spot or wrinkle or any such thing;
but that she would be holy and blameless.
Ephesians 5:25–27
In fact, you and I were chosen by God for this very purpose—to be "holy and blameless" for his Son, Christ. And notice when this choice occurred:
He [God] chose us in Him [Christ] before the foundation of the world,
that we would be holy and blameless before Him.
Ephesians 1:4
Owned by God.
"I also swore to you and entered into a covenant with you so that you became Mine,"
declares the Lord Yahweh.
Ezekiel 16:8
Purchased by Christ.
"Worthy are You … for You were slain, and purchased for God with Your blood
people from every tribe and tongue and people and nation."
Revelation 5:9
Sealed by the Spirit.
You were sealed in Him with the Holy Spirit of promise, …
with a view to the redemption of God's own possession, to the praise of His glory.
Ephesians 1:13–14
Get ready the confetti and rice. And I bet there'll be more than 59,000 likes for that post.