Cake?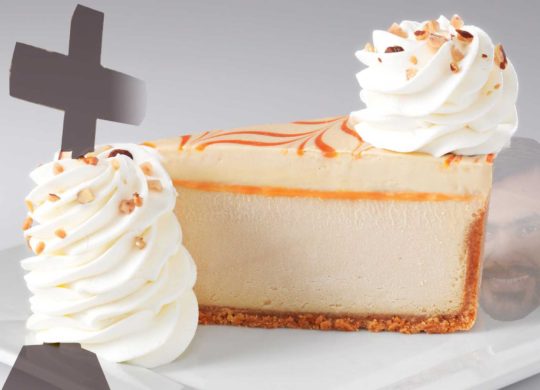 Apparently, the first cheesecake was created on Samos, a Greek island on the Aegean Sea (another reason to visit the Greek islands). This was in 2000 BC, say archeologists, who suspect this delicious dessert was served during the first ancient Olympic Games in 776 BC. Yup, cheesecakes for energy. I second that!
Aegimius, a revered Greek physician of the 5th century BC, is said to have described the art of making cheesecakes: pound the cheese till it is soft, mix it (in a brass pan) with flour and honey, heat the whole thing, and allow it to cool before consumption.
Then the Romans conquered Greece and took over cheesecake. Marcus Porcius Cato (aka Cato The Elder; 234–194 BC), Roman senator and historian, mentions two kinds of cheesecake in his De Agri Cultura: savory (libum) and sweet (savillum).
After that things are murky for a thousand years, until 1390 when a modern looking version of the delicacy shows up in Forme of Cury, an English cookbook. ("Curry"? Go figure!). So, British celebrity chef, Heston Blumenthal, claims cheesecake is an English invention. (A British culinary invention? Go figure!)
Good ol' James Kraft of ye olde USA developed his pasteurized Philadelphia Cream Cheese in the early 1900s. And the rest is history!
Oh, wait, then came Cheesecake Factory, and after that the rest is history. That was in 1978, in Beverly Hills. Now with 210 stores. Menu with almost 250 items, taking over 6,000 words to expound. Over 30 of which items are cheesecakes. Many of which have a paltry 1,000 calories (or more) per slice! A slice of all 30+ cheesecakes will put you back about $400. Well worth it, I say.
The most expensive of the lot was created at Ristorante Rafele in Manhattan a couple of years ago: $5,000 per cake.
Said a reporter for CNBC:
Is there such a thing as being too rich? After covering wealth for more 14 years, the question has often come to mind. But it took on special meaning when I took my first bite of the world's most expensive cheesecake—at $5,000 per cake. After sinking my teeth into the sweet, creamy filling loaded with rare cognac, white truffles, fresh vanilla and crunchy Italian biscotti [and gold leaves], I had my answer. With cheesecake—if not with life—richer is better. Much better."
I beg to disagree. And the Bible does, too!
For we have brought nothing into the world, so we cannot take anything out of it either.
If we have food and covering, with these we shall be content. …
For the love of money is a root of all sorts of evil, and some by longing for it
have wandered away from the faith and pierced themselves with many griefs.
1 Timothy 6:7–9
On the other hand,
Flee from these things, you person of God, and pursue
righteousness, godliness, faith, love, perseverance and gentleness.
1 Timothy 6:11
And not only pursue these virtues, but also …
Instruct those who are rich in this present world
not to be conceited or to fix their hope on the uncertainty of riches,
but on God, who richly supplies us with all things to enjoy.
1 Timothy 6:17
Rather …
Instruct them to do good, to be rich in good works, to be generous and ready to share,
storing up for themselves the treasure of a good foundation for the future,
so that they may take hold of that which is life indeed.
1 Timothy 6:18
True treasure! Way better than cheesecake!
And that is "life indeed!"
SOURCES:
The Pappas Post; Crumble and Whisk; Wikipedia