aBeLOG
Welcome to the aBeLOG, a series of (hopefully!) fortnightly posts on all matters homiletical. I intend to touch on whatever grabs my attention regarding preaching—issues contemporary and ancient, ideas hermeneutical and rhetorical, personalities conservative and liberal, publications antiquarian and avant-garde. Essentially, I'm going to follow my own homiletical olfactory instincts up rabbit trails and after red herrings. Comments are always invited and appreciated.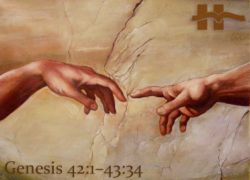 God's discipline and their selflessness and submission to God, lead agents of divine blessings to resolve past sin.
This section begins with the famine of 41:57 being assumed as the background. So the brothers (without Benjamin, Jacob's favorite) are dispatched to Egypt for food.
When the brothers arrive in Egypt, one cannot but wonder how their path intersected with that of Joseph. That a tiny group of people, among the many hungry foreigners and natives in Egypt looking… Read more →