aBeLOG
Welcome to the aBeLOG, a series of (hopefully!) fortnightly posts on all matters homiletical. I intend to touch on whatever grabs my attention regarding preaching—issues contemporary and ancient, ideas hermeneutical and rhetorical, personalities conservative and liberal, publications antiquarian and avant-garde. Essentially, I'm going to follow my own homiletical olfactory instincts up rabbit trails and after red herrings. Comments are always invited and appreciated.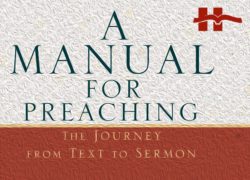 Folks, my latest opus on preaching is out: A Manual for Preaching: The Journey from Text to Sermon (Baker, 2019).
This is intended to be a companion volume to A Vision for Preaching: Understanding the Heart of Pastoral Ministry (Baker, 2015). The latter was a big-picture view of preaching; the former, current work, explains the nitty-gritty of crafting a sermon.
And since my "vision for preaching" is fairly broad, you don't have to be a senior pastor somewhere,… Read more →