aBeLOG
Welcome to the aBeLOG, a series of fortnightly posts (I'm resolving to produce one around the 1st and 15th every month at least for now) on all matters homiletical. I intend to touch on whatever grabs my attention regarding preaching—issues contemporary and ancient, ideas hermeneutical and rhetorical, personalities conservative and liberal, publications antiquarian and avant-garde. Essentially, I'm going to follow my own homiletical olfactory instincts up rabbit trails and after red herrings. Comments are always invited and appreciated.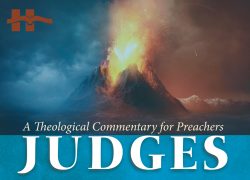 Folks, my latest commentary is out: Judges: A Theological Commentary for Preachers.
This follows the scheme of my earlier commentaries on Genesis, Mark, and Ephesians, and subscribes to the same hermeneutic that underlies those.
Check out the free chapter download here.
 Endorsements
With Abraham Kuruvilla's sensitive literary and theological reading of Judges … he shows preachers how to relate its message to the world in which we live and the alternative world Christians are called… Read more →