aBeLOG
Welcome to the aBeLOG, a series of fortnightly posts (I'm resolving to produce one around the 1st and 15th every month at least for now) on all matters homiletical. I intend to touch on whatever grabs my attention regarding preaching—issues contemporary and ancient, ideas hermeneutical and rhetorical, personalities conservative and liberal, publications antiquarian and avant-garde. Essentially, I'm going to follow my own homiletical olfactory instincts up rabbit trails and after red herrings. Comments are always invited and appreciated.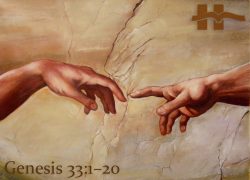 Faith in God is marked by seeking and extending forgiveness, thus restoring relationships with others, and also with God.
The previous pericope depicted Jacob finally receiving God's blessing. That would have been a blissful ending to the turbulent story of the patriarch. However, one more thing needed to be accomplished: reconciliation with Esau.
And so, as younger brother comes before his older sibling, Jacob prostrates himself seven times (33:3)—a mark of great respect… Read more →