aBeLOG
Welcome to the aBeLOG, a series of fortnightly posts (I'm resolving to produce one around the 1st and 15th every month at least for now) on all matters homiletical. I intend to touch on whatever grabs my attention regarding preaching—issues contemporary and ancient, ideas hermeneutical and rhetorical, personalities conservative and liberal, publications antiquarian and avant-garde. Essentially, I'm going to follow my own homiletical olfactory instincts up rabbit trails and after red herrings. Comments are always invited and appreciated.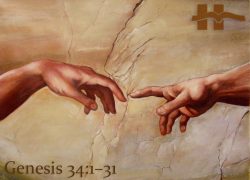 Enjoying God's blessings calls for responsible maintenance of moral standards in the face of worldly evil.
This is a sordid story, with no heroes. Everyone is culpable (except the victims: Dinah, sexually violated and voiceless, and the people of Shechem, brutally slaughtered or kidnapped).
Shechem, the son of Hamor, the Hivite, rapes Dinah, the daughter of Jacob (34:2). But, he seems to show some good faith as he and his father enter into negotiations with Jacob… Read more →