RaMbLeS
Welcome to RaMbLeS, a collection of weekly musings on life and Scripture. It all began in 2005 on Google's blogspot as the aBeLOG (a name now recycled), a semi-autobiographical devotional that attempted to keep well-wishers abreast of my activities as I relocated to Scotland for a few years. Since my return, I've continued my RaMbLeS, and here's its most recent incarnation on HOMILETIX.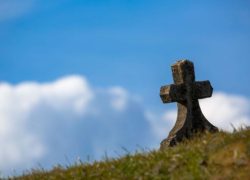 Talking of phobias ….
Here's a new one: taphophobia = "fear of graves" (from the Greek: taphos = grave and phobos = fear).
Before the days of modern medicine, taphophobia was not entirely irrational. People did get buried by accident. William Tebb (1830–1917), a British social reformer, collected stories of these premature burials, documenting 219 cases of near-live burial, 149 of actual live burial, and—get this!—10 cases of dissections of bodies that were… Read more →