RaMbLeS
Welcome to RaMbLeS, a collection of weekly musings on life and Scripture. It all began in 2005 on Google's blogspot as the aBeLOG (a name now recycled), a semi-autobiographical devotional that attempted to keep well-wishers abreast of my activities as I relocated to Scotland for a few years. Since my return, I've continued my RaMbLeS, and here's its most recent incarnation on HOMILETIX.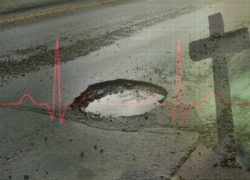 Here's one—and the only one—reason not to complain about potholes. A guy now has a pothole to thank for saving his life.
A couple of weeks ago, Gretna Rescue's EMTs, in Gretna, Nebraska (pop. 5,062), were called in to help a 59-year-old man whose heart was racing at his workplace. And he had no history of cardiac problems.
The good paramedics arrived on the scene, and loaded the patient for the 7-mile, 20-minute drive to the nearest emergency room. At one point the… Read more →