RaMbLeS
Welcome to RaMbLeS, a collection of weekly musings on life and Scripture. It all began in 2005 on Google's blogspot as the aBeLOG (a name now recycled), a semi-autobiographical devotional that attempted to keep well-wishers abreast of my activities as I relocated to Scotland for a few years. Since my return, I've continued my RaMbLeS, and here's its most recent incarnation on HOMILETIX.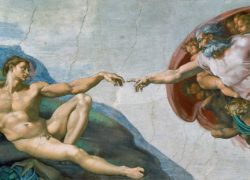 John H. Evans, professor of sociology at the University of California, San Diego, discussed his book What is a Human (Oxford University Press) in the magazine New Scientist.
He talked about his research that analyzed survey data from 3,500 U.S. adults that led to a (not so) surprising conclusion: Those who believed humans bear the image of God held more humanitarian attitudes than those who did not.
People act on what they think is true. So Evans wanted to boil down the… Read more →