RaMbLeS
Welcome to RaMbLeS, a collection of weekly musings on life and Scripture. It all began in 2005 on Google's blogspot as the aBeLOG (a name now recycled), a semi-autobiographical devotional that attempted to keep well-wishers abreast of my activities as I relocated to Scotland for a few years. Since my return, I've continued my RaMbLeS, and here's its most recent incarnation on Homiletix, as random reflections usually based on current news articles and travel experiences and whatever else takes my fancy!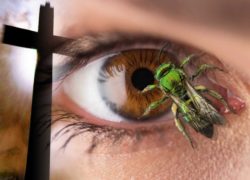 A strange thing happened in a clinic in Taiwan a few months ago.
A 28-year-old patient, Ms. He, had been uprooting weeds around her relatives' graves, as part of the annual Qingming Tomb-Sweeping Festival (which has been observed by the Chinese for over 2,500 years), when folks clean up loved one's tombs and make ritual offerings of traditional foods and burn joss sticks. That was in early April this year.
Engaged in her act of devotion to her ancestors, Ms. He felt… Read more →