Church?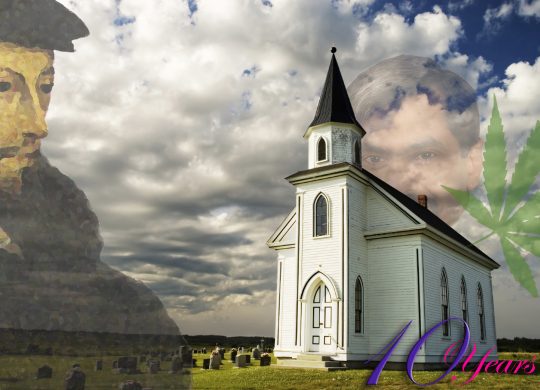 The First Cannabis Church of Logic and Reason. Yup! You read it right. In south Lansing, Michigan. With a website cannabisismyreligion.org.
The news article called them "a parish of pot supporters," and "marijuana missionaries."
The "Reverend Jeremy Hall" is in charge and hopes his new "church" plant will become monthly meetings worshipping cannabis and its spiritual properties.
The biggest question that I get is, how can this be a church if we don't subscribe to a religious theology, if I'm not sitting here preaching from a book, if I don't have prophets that told us how to behave. How can we call ourselves a church? Well, the reality is that it just sounded better than cannabis 'cult.'"
The first meeting was at Lansing Herbal Farmers Market, appropriately. And if you are interested in attending, it is BYOB—"Bring Your Own Beliefs."
Rev. Hall and his wife moved to Michigan from Tennessee because he wanted to be a "legal medical marijuana caregiver" (his wife uses the substance for her lupus). Now he is also "evangelizing" for the church.
We're using our church to elevate the community and to show we aren't a drain on society or a bunch of unmotivated criminal."
There are spiked goods and joints for sale, but you need a medical marijuana card to sample the wares.
Predictably, there were a couple of protesters outside holding signs, but Rev. Hall is undeterred: "We've received nothing but encouragement."
And, he adds:
Our ideal of a church is that we are simply a collection of likeminded individuals, coming as one group, united by a common cause. And our current cause, right now, is our belief in cannabis and its use in our spirituality."
Hmm ….
But the Bible defines "church" otherwise, as the gathering of Christians, united by Christ, united in Christ, united with Christ, united for Christ.
Christ … is the head of the church, He Himself being the Savior of the body.
… the church is subject to Christ
… Christ also loved the church and gave Himself up for her,
to sanctify her …. that He might present to Himself the church in all her glory,
… Christ also [nourishes and cherishes] the church,
because we are members of His body.
Ephesians 5:23–27, 29–30
And united in theology …
There is one body and one Spirit,
just as also you were called in one hope of your calling;
one Lord, one faith, one baptism,
one God and Father of all who is over all and through all and in all.
Ephesians 4:4–6
Behind one text …
I am a companion of all those who fear You,
And of those who keep Your precepts.
Psalm 119:63
And sent by Christ …
"Go therefore and make disciples of all the nations,
baptizing them in the name of the Father and the Son and the Holy Spirit,
teaching them to observe all that I commanded you …."
Matthew 28:19–20
Without the church there can be no Christianity; there is no such species as a Lone Ranger Christian.
Do not forsake our own assembling together, as is the habit of some,
but encourage one another; and all the more as you see the day drawing near.
Hebrews 10:25
Cyprian of Carthage (ca. 200–258), an early church father, said:
He cannot have God as a father who does not have the Church as a mother."
And it was later echoed by Calvin (1509–1564) in his Institutes:
Those to whom he [God] is a Father, the Church must also be a mother."
Church? Serious business!