Clock!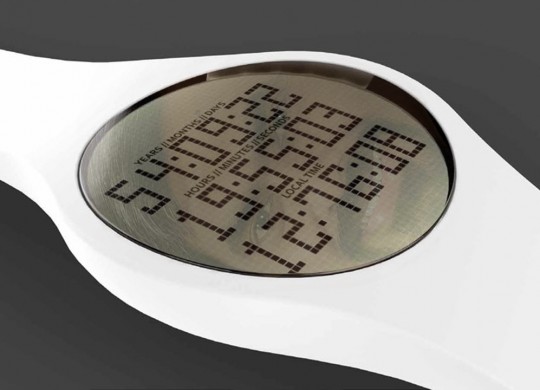 Thankfully, we do not know the date of our death. But what if we could?
Well, there's something for you, if you wanted to know.
Swedish inventor Fredrik Colting has a Kickstarter campaign for—get this!—a "death watch." He's the right man to create this gadget—in his former career he was a gravedigger.
The watch is actually called Tikker. And what it does is count down the seconds left in your life.
Colting thinks "if we are aware of death, and our own expiration, that we will have a greater appreciation for life." That might be true; nothing like a close call to make you aware of the brevity of life, the transience of it all, at least here on earth. The inventor apparently got this bright idea when his grandfather died: "It made me think about death and the transience of life, and I realized that nothing matters when you are dead. Instead, what matters is what we do when we are alive."
Actually, the watch doesn't know exactly when you'll breathe your last. You fill out a questionnaire, giving it your age and stuff, and the watch's algorithms (also used by the federal government to estimate one's life expectancy) spit out your estimated time of departure. And then the watch begins counting down the seconds.
Would that change your life as you watched the seconds slip by? At the very least, this constant reminder would keep us from being in denial.
It is said that as a Roman general paraded through the streets in a march of victory after a triumphant campaign, he would have a slave muttering at this ear constantly: Memento mori! ("Remember your death!")
Tikker goes on sale this April for those willing to shell out $79 for a "slave" that will keep reminding them: Memento mori!
Colting says he's already gotten thousands of orders from the world over: "I think that we have two things that unite us humans, all over the world, and that is that one day we are born, and one day we die," he noted. "Everyone can relate to this, and everyone thinks about the concept of life and death."
I'm not so sure about that. Most don't think of death. We've sanitized it. We don't talk about it, we don't see it, we don't hear about it. Even our wars are sanitized: somebody presses a button somewhere and "Boom!" The button-presser never sees the dying. No photos on TV. No reports in the news.
But it is coming. Death. To all of us. As the Tikker constantly reminds us: Memento mori!
LORD, make me to know my end
And what is the extent of my days;
Let me know how transient I am.
Behold, You have made my days as handbreadths,
And my lifetime as nothing in Your sight;
Surely every man at his best is a mere breath.
Surely every man walks about as a phantom;
Surely they make an uproar for nothing;
He amasses riches and does not know who will gather them.
Psalm 39:4–6
Indeed, time is short. And, so, the psalmist prayed for wisdom to live well in the fewness of the days allotted to us.
So teach us to number our days,
That we may present to You a heart of wisdom.
Psalm 90:12
Paul echoed those sentiments.
Therefore be careful how you walk, not as unwise men but as wise,
making the most of your time, because the days are evil.
Ephesians 5:15–16
Keep an eye on the clock. Live for God. Have a blessed 2014!