Coincidence!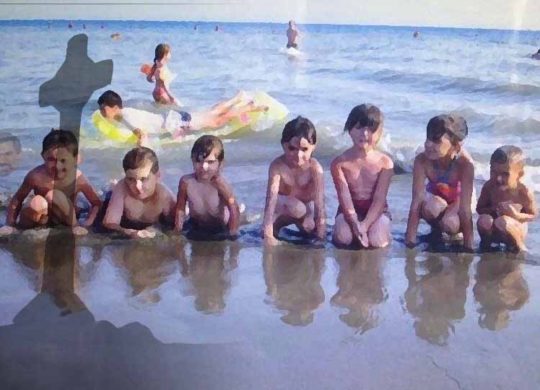 How do you know you are in love?
[Don't look at me. I'm clueless.]
Here's what they say: "We both like …." Or "Our stars aligned." Or "God said so." Or whatever.
Apparently there are "signs" that you may not have been aware of, or looking for, as happened to Verona Koliqi and Mirand Buzaku.
Both are from Kosovo, though Verona has lived in the U.K. for the longest time. They ran into each other during one of her visits to Kosovo from the U.K.
Said the lady:
We exchanged looks every day we saw each other but did nothing."
They kept in touch. Finally, she took the initiative and "liked" something on his Instagram.
One year later, they were engaged, at a resort in Turkey.
Verona explains:
I had no clue he was going to propose to me, because in our country's tradition, engagements are planned and have to be agreed by both beforehand. But Mirand even arranged for music and a photographer when he got down on one knee in a restaurant."
Soon after this, says Verona, …
My cousin found this photo on her computer, and she sent it over to me on my phone to laugh about how we looked when we were younger."
The photo shows seven kids posing at a beach in Montenegro. Verona showed it to Mirand who made fun of her "tomboy" look.
But then he took a closer look at the background, that shows a kid on a float in the water. And the float was just like the one he used to have years ago. And the T-shirt and the pair of shorts were just like the one he used to have, too.
Exclaimed Mirand:
Hold on, I think that's me!"
Verona continues:
We both looked at each other and said, 'No way, that can't be true.'"
Everything in the photograph matched Mirand's memory, hanging out in the water. They turned to their families who confirmed the time and yes, the visits of both families to the Montenegro beach coincided.
And guess what? Mirand's family was visiting the beach from Kosovo, about 250 miles away, and Verona's family was visiting from the U.K., over 1,500 miles away.
What a photo-bombing coincidence!
Exclaimed Verona:
I never knew something like this could happen, even though I've heard a saying: 'You will have passed your soul mate at least once way before you actually meet up.'"
I don't know about that.
But this I know. Even though he's not in the habit of photo-bombing, he is everywhere—everywhere!
Thus says the LORD,
"Heaven is My throne and the earth is My footstool.
Where then is a house you could build for Me?
And where is a place that I may rest?"
Isaiah 66:1
Said Charles H. Spurgeon in 1862:
We believe that he [God] filleth heaven and earth, and hell; that he is in the very space which his creation seems to claim …; and even the space which is occupied by his handiworks is still filled with himself. The rocky bowels of the unsearched-out depths are full of God; where the sea roars, or where the solid granite leaves no interstice or vacuum, even there is God; not only in the open place, and in the chasm, but penetrating all matter, and abounding everywhere in all, and filling all things with himself."
So, the Psalmist asks …
Where can I go from Your Spirit? Or where can I flee from Your presence?
If I ascend to heaven, You are there; If I make my bed in Sheol, behold, You are there.
Psalm 139:7–8
Thank God, he's with us—everywhere!