Comfort?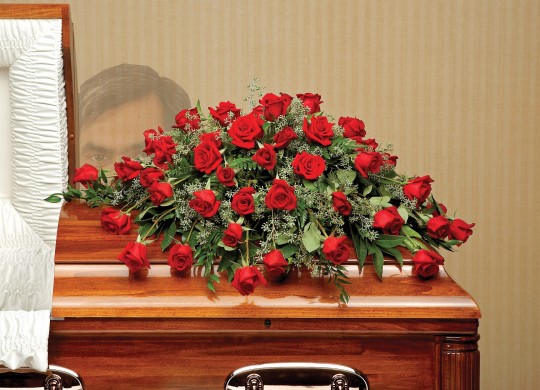 Here's a new one for you: a drive-through casket viewing! Yup, you don't need to attend no memorial service or anything to view the remains of your friend, co-worker, loved one …. You can just … drive through!
Says Ivan Phillips, president of Paradise Funeral Chapel, in Saginaw, Michigan:
As you enter into the drive-thru, you're going to see a memorial box where you can drop a memorial card or a monetary contribution. Once you push the button, the register box will open up. At that time, you may sign your name in the register book …. And when you proceed forward, the curtains will draw back and you may pay your respects to the loved one for three minutes from the privacy of your vehicle."
They've got it down. They'll even take contributions. Didn't read about a credit-card reader or an ATM machine in the set-up, though I wouldn't be surprised at all if there were one.
How convenient!
But apparently, this is not only for convenience. The funeral home says it helps those with physical limitations who just want to stay in the car.
Actually, this is not a new idea. Several years ago, a funeral home in Compton, California, introduced this unique service. Its owner, Scott Adams explained to the LA Times that it was "a convenience thing." Mourners "don't have to deal with parking, you can sign the book outside and the family knows that you paid your respects."
The LA Times listed the perks of this drive-through mode of paying your last respects to the dear departed: senior citizens don't have to leave their cars; it saves a lot of time; those who don't want to step inside a funeral home are spared the agony; the disabled can roll through on wheelchairs; etc.
And about a couple of decades ago, Gatling Chapel had something like this. You drove up to a console, punched a button to indicate whose body you wanted to see, and the person in the control room would switch on a close-up video image of the deceased on a monitor outside. You came, you saw, you mourned.
Of that innovation, Gatling's owner, Lafayette Gatling, said:
When you go to McDonald's, you talk into a speaker, but you can't see what you get. Here, you can see what you're asking to see. That's the difference."
And now this: you can see the actual body!
The Bible recommends something quite different:
But we do not want you to be uninformed, brethren, about those who are asleep,
so that you will not grieve as do the rest who have no hope.
For if we believe that Jesus died and rose again,
even so God will bring with Him those who have fallen asleep in Jesus.
For this we say to you by the word of the Lord,
that we who are alive and remain until the coming of the Lord,
will not precede those who have fallen asleep.
For the Lord Himself will descend from heaven with a shout,
with the voice of the archangel and with the trumpet of God,
and the dead in Christ will rise first.
Then we who are alive and remain will be caught up together with them in the clouds
to meet the Lord in the air, and so we shall always be with the Lord.
Therefore comfort one another with these words.
1 Thessalonians 4:13–18
That's what we mourners need: collective grieving, reminding of hope, comfort extended, Scripture read, assurance of the resurrection, songs sung, corporate bidding of goodbye, sharing, community ….
We take life seriously. And we take death seriously, too!