Company!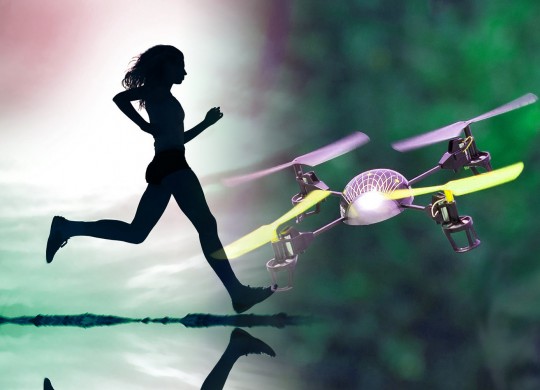 Apparently you don't need human company any more. Or even a pet. Now we have a drone to go jogging with!
In last month's CHI (Computer Human Interaction) conference in Seoul, researchers shared the latest in human interaction with digital technologies. Computer science, cognitive psychology, design, social science, anthropology, artificial intelligence, etc., were some of the fields represented. This year's conference theme was "Crossings," described by the CHI folks as:
… crossing borders, crossing boundaries, crossing disciplines, crossing people and technology, crossing past and future, crossing physical and digital, crossing art and science, … crossing you and me."
There in Seoul, Florian Mueller and Matthew Muirhead of the Royal Melbourne Institute of Technology, read a paper titled "Jogging with a Quadcopter."
[Another "paper" from the same group was scheduled to be read as participants jogged around the venue of CHI while discussing technologies that support sport activities!]
In any case, if you are having trouble getting motivated to jog, here is the answer. Get off your sofa, and get yourself a … drone! A quadcopter, actually—a drone with four rotors. This gadget will keep you company during your exertions. This flying robot will position itself exactly 13 feet in front of you, hanging (flying) with you till you are done. Like a running buddy, or a dog.
The subjects who participated in the research loved it. Declared one:
I quite liked it, because it reminded me that I am running with something. I like running with a buddy."
Even when the quadcopter wobbled in the wind, making its movements less precise that one would expect, one jogger described this imprecision as a sign of personality!
I am not sure of wind or whatever, but it started to wobble, and it started to crisscross in front of me, and I quite liked it, because it reminded me that I am running with something, I like running with a buddy, … it gave it a bit of personality, a bit of character, I think what was cool about it, in that moment, cause it was like 'Hey, follow me!'"
Joggers took to the mechanical beasts right away. It won't be long before jogging drones join Fitbits and smartphone pedometers in the burgeoning field of exercise apps, though this one has "personality." Sensors would collect (hackable) data about you, the jogger, and talk to you and egg you on, provide music through its stereo speakers, carry your water bottle, chase dogs away, etc. Oh, and sunscreen too: it will squirt the good stuff on you in the appropriate concentration every 2 hours.
[I'd like one that will run for me, while I sip my lemonade and catch up on my reading … on my La-Z-Boy.]
Concluded Mueller and Muirhead:
With this work we hope to inspire and guide designers interested in creating robotic systems to support exertion experiences."
Flying machines are now motivating people!
Declared Mueller:
We've shown for the first time that a quadcopter can function as a social companion for joggers, and we know that joggers value that. The finding was a surprise."
Not to us! We already had a companion—not human, not animal, but … God! God, the Holy Spirit called:
"The Helper."
John 14:16, 26; 15:26; 16:7
The Spirit of truth … He abides with you and will be in you.
John 14:17
Where can I go from Your Spirit? Or where can I flee from Your presence?
If I ascend to heaven, You are there; If I make my bed in Sheol, behold, You are there.
Psalm 139:7–8
The Helper: God himself with us!