Connecting!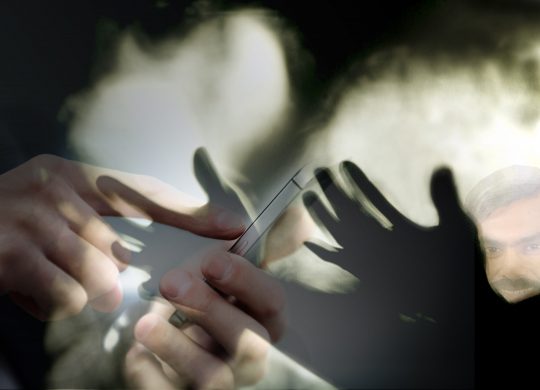 Someone made the astute observation that for almost a decade now, humans—for the first time in the history of this species—have been wandering the planet with a small computer in their hands: the smartphone.
So, how many times a day do you think the average persons swipes, taps, and pinches that little device in their hands?
Only about 2,617 times … a day. About 1,000,000 times a year.
This, dscout—a research and software company that examines mobile phone usage—confesses, is probably a "low-ball figure," because the app installed to monitor handling of the phones does not count the number of times phones were touched or otherwise manipulated in their locked state—reviewing notifications, checking time, changing volume, or skipping songs, etc.
(There is an elite ten percent that fingers their displays 5,427 times a day—2,000,000 times a year!)
And the numbers—especially the time spent on devices—don't look like they're going down: 2.42 hours a day on average, texting, swiping, turning, scrolling, pinching, moving, ….
Said Michael Winnick, founder and CEO of dscout:
I don't think we are close to reaching 'peak digital.' Interaction styles may change and this creates an opportunity for new forms, like voice, augmented reality, and VR. So the form will likely change. If we were betting on it, we'd say the amount of time we are spending through digitally mediated products won't go down. We just might not be using our fingers as much."
Eighty-seven percent of folks, they found, check their phones at least once between midnight and 5:00 am.
The app that was used most often? Facebook. The second? Your default text messaging app. Not to mention the eighty sessions a day with Google conducted by your average user.
And doctors have something to say about this, too.
Hand surgeon Dr. Mark Ciaglia told media recently that he is seeing more patients 40 years and younger struggling with painful inflammation and stiffness of their hand joints.
Noted Ciaglia:
With the advent of texting and video games and excessive use of computers and typing you're wearing the joints out sooner so we're actually seeing a shift in the demographics of patients that get the arthritis because they're just wearing their joints out so much sooner. At the end of the day it's a wear and tear how many times are you moving a joint back and forth where the cartilage that covers the bone within the joint."
So now there's "texting thumb" or "trigger thumb," a smartphone-related affliction. As if we didn't have enough already: about 140,000 per International Classification of Diseases–10.
All this to stay connected.
Well, the Bible recommends being connected, but particularly with one Being, God.
O You who hear prayer, To You all men come.
Psalm 65:2
Well, at least they should come, because ours is a God who wishes to be connected to us.
This is the confidence which we have before Him,
that, if we ask anything according to His will, He hears us.
1 John 5:14
And …
With all prayer and petition, pray at all times in the Spirit, and to this end,
staying alert with all perseverance and petition for all the saints.
Ephesians 6:18
Notice the four uses of the adjective "all" here, emphasizing exhaustive and comprehensive nature of our prayer: through "all" prayer at "all" times with "all" perseverance for "all" the saints.
Therefore let us draw near with confidence to the throne of grace,
so that we may receive mercy and find grace to help in time of need.
Hebrews 4:16
Be connected … to God!