Consumption!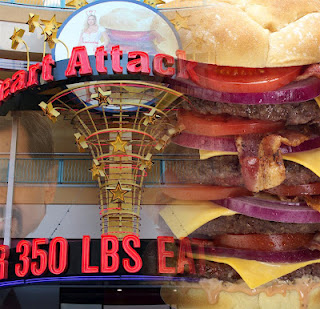 Heart Attack Grill.  Yup, that's what it's called.
In that notable Las Vegas culinary establishment, your meal can cross the 8,000 calorie mark. (You might remember that the recommended daily intake is between 2,000 and 2,500 of the good stuff per day.)
As if to poke the medical establishment in the eye, waitresses dressed as nurses bring the Heart Attack's food to your table. Their logo has an EKG in the background: I suppose they guarantee your needing one pretty soon if you frequent their joint.
Here you can get a "Quadruple Bypass Burger" (shown) for $12.94 (4 slabs of beef; add 20 slices of bacon for only $3.69 more). Or if you weren't that hungry, you could go for the $11.10 "Triple Bypass Burger" (3 chunks of beef; and for 15 slices of bacon, add $2.77). All of this smothered in Heart Attack Grill's own special sauce. And to make it all worthwhile, throw in "Flatliner Fries," deep fried in pure lard ($1.84).
If you are over 350 lbs. you eat free. Just make sure you read the sign at the door of one of their franchises: "Go away. If you come in this place, it's going to kill you."
The place is run by a former nutrition "doctor" Jon Basso. In another life, the guy used to run—get this!—a Jenny Craig weight-loss diet center. Quite a dramatic shift in career, I might say.
In one of their commercials, starring a 650-lb man, Mr. Basso adds: "I personally guarantee a stable upward progression of body weight while you're enjoying great tasting foods. Along with a cold beer and cigarette, it's a diet you can stick to for life." The ad goes on to list the side effects of Heart Attack Grill's glorious cuisine: sudden weight gain, increase in wardrobe size, back pain, lung cancer, tooth decay, stroke, etc. "In some cases," they note, "death may occur."
Well, it apparently did for one patron—or at least he came close to that terminus.
Last week, paramedics were seen wheeling out a 40-year-old man from this infamous eating house. He had been consuming a 6,000-calorie goodie (the Triple Bypass Burger) when he suffered a heart attack.
Mr Basso told Fox News: "The gentleman could barely talk. He was sweating, suffering.
'I actually felt horrible for him because the tourists were taking photos of him as if it were some type of stunt."
Have you found honey?
Eat only what you need,
That you not have it in excess and vomit it.
Proverbs 25:16
Nope, the Bible doesn't care for excess consumption of food. Not at all. In no uncertain terms, it decries this overdosing on food, lest one suffer its side-effects, as carefully noted by the Heart Attack Grill's management.
In fact, God warns his people that such a focus on food and the stomach are earthly and temporal and not directed towards God.
Food is for the stomach
and the stomach is for food,
but God will do away with both of them.
Yet the body is not for immorality,
but for the Lord ….
1 Corinthians 6:13
Instead God would have us attend to things that come out of the body, not to what goes in.
Do you not understand that everything
that goes into the mouth
passes into the stomach, and is eliminated?
But the things that proceed
out of the mouth come from the heart,
and those defile the man.
… evil thoughts, murders, adultery,
sexual immorality,thefts, false witness, slander.
Matthew 15:17–19
Oh, and the motto of the restaurant? "Taste Worth Dying For!"