Control!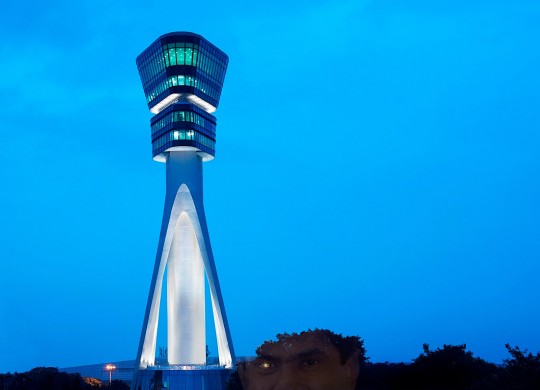 Maybe you've had late nights that stretched into early mornings that found you fast asleep during your work hours. Pulling an all-nighter that knocked you out for the rest of the day.
For Philip "P.J." Maschek it was worse.
This 50-year-old dude was passed out next morning in his chair wearing a black robe and slippers; no shirt (maybe that's why he's called "P.J."?). The police was called.
Why, you ask?
Our man was (yes, was) an air traffic controller at Springdale Municipal Airport (SPZ) in Springdale, Arkansas.
At 7:45 that morning, a USAir pilot requesting clearance for takeoff got no response from the control tower. An employee of the airport was sent to check.
When the police arrived, "P.J." was found squatting in front of a small fridge, swaying on his feet, slurring his speech, and struggling to balance. The long arm of the law found signs of intoxication, though the air traffic controller (ATC) denied everything and refused to take a Breathalyzer test. He was arrested for public intoxication.
Maschek  reportedly argued with the cops about the "public" part of "public intoxication." I would venture that that semantics was the least of his problems now, especially since he was discovered in a black robe and slippers, shirtless, when taken into custody … at work!
Tony Molinaro, a spokesperson for the Federal Aviation Administration (FAA), said:
The FAA will work with the controller's employer to investigate the incident."
FAA policy calls for an ATC to be removed from work for a blood alcohol content greater than 0.02%, a level well below the 0.08% limit for operating cars.
Airport official Wyman Morgan, who called the police, declared that Maschek, 50, a veteran air traffic controller, had made an error "we couldn't tolerate" in a "highly sensitive" role. I'll say!
The tower operator has control and responsibility of the safety of the planes landing and taking off at the airport. It's a very safety-orientated position."
The police report added that the man was too intoxicated to climb down a steep ladder to leave the tower. I'm not sure how it was accomplished. But "P.J." is in jail now.
And … he has resigned, thankfully.
If you are aboard a plane, the least you can expect is sobriety from the one guiding the aircraft from the tower. But, nope, not from Philip "P.J." Maschek.
It's a good thing God is in control of our lives.
I will lift up my eyes to the mountains;
From where shall my help come?
My help comes from the LORD, Who made heaven and earth.
He will not allow your foot to slip; He who keeps you will not slumber.
Behold, He who keeps Israel Will neither slumber nor sleep.
Psalm 121:1–4
And he will certainly not be drunk and passed out in robe and slippers, even though …
Our God is in the heavens; He does whatever He pleases.
Psalm 115:3
Getting intoxicated and becoming incapable of conducting his divine operations is not what he pleases to do!
In fact, his air-traffic-control reputation is impeccable, and extends far beyond planes.
Lift up your eyes on high And see who has created these stars,
The One who leads forth their host by number, He calls them all by name;
Because of the greatness of His might and the strength of His power,
Not one of them is missing.
Isaiah 40:26
And his ATC credentials cover even birds!
"Are not two sparrows sold for a cent?
And yet not one of them will fall to the ground apart from your Father."
Matthew 10:29
We can rest (fly) easy!