Copyright!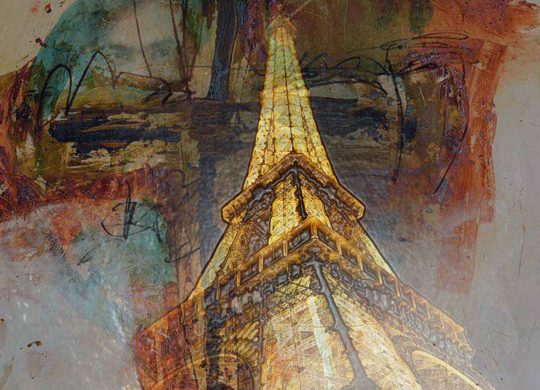 Copyright issues are tricky. Here's a particularly odd one …
You better be careful when photographing the Eiffel Tower on that celebrated trip to Paris that you take, as one of the seven million that visit it each year. Well, at least photographing that venerable edifice at night.
The European Union copyright laws cover artistic works—music, art, videos, buildings, etc.-for the lifetime of their creators plus 70 years. Now, Gustav Eiffel died in 1923.
(He, BTW, didn't design his eponymous tower, neither did he have the copyright to it, till he bought it from Stephen Sauvestre and his two employees, Maurice Koechlin and Emile Nouguier, who designed the tower.)
We, in 2018, can photograph and use the Eiffel Tower in whatever purpose takes our fancy, since the copyright expired in 1993. All those replicas that hawkers sell in Paris? All legal. And the Hotel Paris, on the Las Vegas strip that has a model of the Eiffel out front? That was constructed in 1999.
But, hold on, there's a twist. You might have seen the captivating hourly light show that the Eiffel puts on from sundown to 1:00 am, lights all a-twinkling, all 20,000 of those 6-watt bulbs. Quite a sight for the five minutes it is on (except for the last show—a hypnotic 10-minute spectacle). The marvelous lighting of the Tower was installed in 1985 and are considered a separate work of art. So you have to wait till 2055 till you can legally photograph it for commercial use.
Well, you might wonder: What if I took a panorama of Paris that included the ET at night? Would that create a problem?
Good question. One more twist …
The European Union has, as do many other countries, a "freedom of panorama" clause. If a copyrighted building, sculpture, art, or some such is part of a panorama, and not its focal point, it is exempt from copyright laws. But, unfortunately, the EU has allowed member nations within the Union to opt out of such "freedoms of panorama." And guess what? France is one of the countries that has so opted out of that clause.
In other words, you're stuck until 2055, if you want to use your photo of the Eiffel at night for commercial purposes. It would be illegal today, and you might end up in jail.
(You might also be in trouble with Christ the Redeemer statue in Rio de Janeiro, Radio City Music Hall in New York City, and with St. Peter's Basilica in Rome.)
Whew! Copying is hazardous!
It's a good thing we can copy other things freely. In fact, in the Bible, we are frequently exhorted to do so.
Copy Jesus Christ:
Have this attitude in yourselves which was also in Christ Jesus.
Philippians 2:5
The fourth-century Church Father, Augustine, put it well:
[A] man who could be seen was not to be followed; God was to be followed-but he couldn't be seen. So in order to present human beings both with one who could be seen by human beings and with one whom human beings might properly follow, God became a human being."
And in the same fashion, we are all exhorted to copy those who in turn copy Jesus Christ, like Paul:
Be imitators of me, just as I also am of Christ.
1 Corinthians 11:1
And like other churches:
For you, brethren, became imitators of the churches of God in Christ Jesus.
1 Thessalonians 2:14
All this to accomplish God's goal …
… to be conformed to the image of His Son.
Romans 8:29
Go ahead, copy him all you want, day and night.