Crises!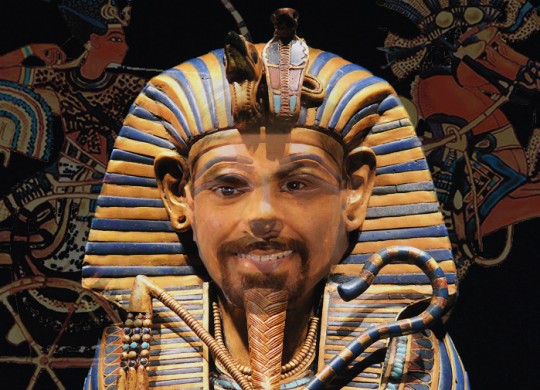 It was in 1922 that British archeologist Howard Carter came upon King Tutankhamun's mummy. The boy king had reigned for a decade till he died at 19, in 1324 B.C.E. For royalty, presumably well-fed and closely-protected, dying in the teens was perplexing. What did he die of? There were speculations, but no consensus. Epilepsy? Head injury? Malaria? A bone disease? The absence of any historical record of this king, besides hieroglyphics on the walls of his tomb, added to the mystery.
We have another explanation now.
He died in a car crash.
Well … a chariot crash.
With a team of forensic scientists and car-crash investigators, British egyptologist Chris Naunton studied scans of King Tut's mummy, conducting a virtual autopsy. Computer analysis demonstrated serious injuries on one side of the body—ribs and pelvis shattered—quite consistent with trauma to the torso caused by a chariot wheel. Apparently his heart was also crushed in the accident. (Which explains why King Tut is the only mummified royal pharaoh to be missing his heart—it had been irretrievably damaged.)
Perhaps he was leading a charge in foreign war conducted by Egypt. Perhaps he was having a bit of fun drag racing in the streets of Cairo. Who knows?
Whatever it was, that was enough misfortune to afflict the king. But the poor man's indignities weren't over.
A small bit of King Tut's mummified flesh was found in the office of British anthropologist Robert Connolly, who was part of the team that had X-rayed the king's remains way back in 1968. This was the only sample of the body outside Egypt. Chris Naunton and forensic archeologists studied this remnant by electron microscopy and came to an amazing conclusion.
The flesh was burnt! Burnt after being sealed inside the coffin! Holy smokes!
(Actually, about a century ago, Howard Carter's original notes had mentioned that the mummy's flesh appeared burnt, but he'd provided no explanation for that strange observation.)
Chemical analysis by researchers the other day discovered that the cause of this spontaneous combustion was a botched embalming. Apparently oils used in the process combined with oxygen and the linen wrappings to set off a chemical reaction that cooked our dear departed King Tutankhamun at over 200°C.
It's bad enough to expire in a chariot crash. But to have your body combust in the coffin?
I tell you, life is messy!
And not just for King Tut.
When it rains, it pours. Lightning does strike twice. Bad things come in threes. Etc.
Life is messy!
But be of good cheer.
Therefore we do not lose heart ….
For momentary, light affliction
is producing for us
an eternal weight of glory
far beyond all comparison,
while we look not at the things which are seen,
but at the things which are not seen;
for the things which are seen are temporal,
but the things which are not seen are eternal.
2 Corinthians 4:16–18
Yup, good things are coming.
For I consider that the sufferings of this present time
are not worthy to be compared with
the glory that is to be revealed to us.
Romans 8:18
Indeed! Because of Jesus Christ, who made possible eternal life for believers, things are going to get better.
He [God] will dwell among them, and they shall be His people, …
and He will wipe away every tear from their eyes;
and there will no longer be any death;
there will no longer be any mourning, or crying, or pain.
Revelation 21:3–4
In the meantime, hang in there. No chariot racing! And try not to get spontaneously combusted either!