Crooked!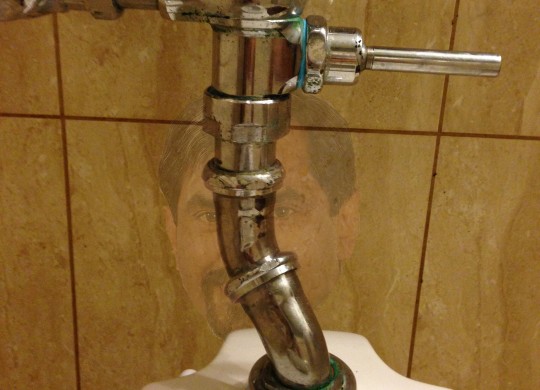 Last week, in Southern California for a preaching conference, a colleague and I went out to eat in a restaurant in Newport Bay (on our way to experience the thrills of a moonlight kayaking experience—but more about that another time).
Well, we went out to eat. And one of us decided to check out the bathrooms of the restaurant to perform a pre-kayak maneuver. Said person returned laughing, with this photo on his phone.
I'm sure there is a story behind the tortuous shape of those pipes. Did the plumber forget where he was headed till it was too late? Did he run out of ideas? Of money—maybe the restaurateur refused to pay him and this was his revenge? Or did he just want to get the job done one way or another, so much so he got it done with whatever bits and pieces he could ransack from the toolbox on the back of his truck? Or maybe this is the norm for California?
Who knows?
It's not only pipes that take a turn for the worse, life itself does so, as my lament a few weeks ago testified. Perhaps the plumber was attesting to such vagaries of life and frailties of humankind on ye olde earth.
In fact, mathematically and geographically inclined types already know that the shortest distance between two places here on earth is not a straight line—it is a curved line!
So maybe that's what it was: the plumber in question in that restaurant restroom had a sudden Buddha-like enlightenment about Euclidean, non-Pythagorean geometry, while working on said bathroom fixture in said restaurant. The rest is history.
The Bible, however, has a thing or two to say about crookedness.
God almost disowns the children of Israel because of their twistedness.
They have acted corruptly toward Him,
They are not His children, because of their defect;
But are a perverse and crooked generation.
Deuteronomy 32:5
"Crookedness" is frequently used in the Book of Proverbs, often pointing to the dire consequences of crookedness. In Proverbs, the word describes people, i.e., evildoers:
Whose paths are crooked,
And who are devious in their ways.
Proverbs 2:15
It is used of speech that is perverse:
Better is a poor man who walks in his integrity
Than he who is crooked in speech and is a fool.
Proverbs 19:1
All the utterances of my mouth are in righteousness;
There is nothing crooked or perverted in them.
Proverbs 8:8
Lifestyles can be crooked:
He who walks in integrity walks securely,
But he who makes his ways crooked will be found out.
Proverbs 10:9
Thorns and snares are in the way of the perverse;
He who guards himself will be far from them.
Proverbs 22:5
He who walks blamelessly will be delivered,
But he who is crooked will fall all at once.
Proverbs 28:18
And purposes and goals of life can be crooked, too:
The perverse in heart are an abomination to the LORD,
But the blameless in their walk are His delight.
Proverbs 11:20
Not to mention, one's thoughts:
He who has a crooked mind finds no good,
And he who is perverted in his language falls into evil.
Proverbs 17:20
As pointedly noted in these verses, life does not promise to be rosy for the one with crookedness in life; in fact, it can be downright tragic for those who, rather than choosing the straight paths of God, veer in directions crooked.
So the psalmist declares emphatically:
A crooked heart shall depart from me;
I will know no evil.
Psalm 101:4
Amen!