Cross!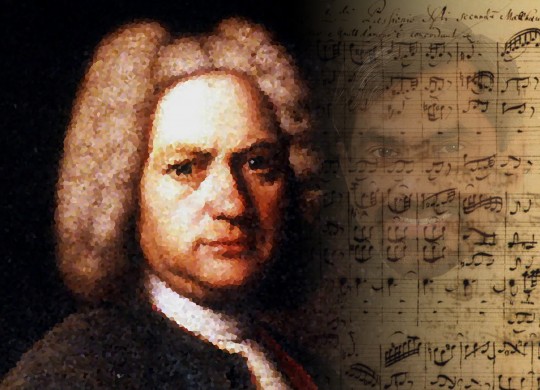 Last week, as I had mentioned in my last post, the Dallas Bach Society performed the St. Matthew Passion by ye olde Johann Sebastian Bach (1685–1750).
My passion (crusade?) is to pay close attention to biblical texts, to figure out what authors do with what they say. They not only say things, but they are doing something in/with their saying. They are accomplishing something. A divine demand is being made in every text. And to that, we readers are expected to conform. It  calls for a close reading of the text to catch these doings.
That's why I really enjoyed looking closely at the score of St. Matthew Passion. Obviously Mr. B's work (words mostly from Matthew 26–27, with some additional help from a Christian Friedrich Hernici, aka Picander [I'm not sure why] with the arias) is not inspired Scripture. But like any decent artist, JSB also does things with his music, as, I suppose, authors do with their literary productions, and painters with their pictures.
So, as I mentioned last week, it is wonderful to play detective and spot the intricacies of this work.
The Evangelist (i.e., the narrator, Matthew) sings in three measures:
Now on the first day of Unleavened Bread
the disciples came to Jesus and asked ….
Matthew 26:17a
Then goes the first choir (yes, there are two choirs participating in this production!) in eleven measures:
"Where do You want us to prepare for You to eat the Passover?"
Matthew 26:17b
That's clever! Why? Look at the math: 3 + 11 (the number of measures taken to sing Matthew 26:17) = 14.
Maybe it's coincidence, but the first day of Unleavened Bread is the 14th day of the month of Nisan, in the Jewish reckoning! Clever!
Another bit of fascinating numerology:
When the Evangelist sings in ten measures:
He answers not to false accusal, never.
So is my heart reliant that His mercy standeth ever.
He will endure whate'er be wrought.
So like Him, in our agony
He should the pattern be:
In persecution, still be silent.
… the strings are simultaneously striking out chords in eighth notes, almost staccato. Thirty-nine chords in those ten measures. 39 and 10. Clever!
"I have become mute, I do not open my mouth."
Psalm 39:10 [in the Hebrew Bible; Ps 39:9 in translations]
Later, in the scene where Peter denies Jesus, he declares, cursing and swearing:
"I do not know the man!"
Matthew 26:74
"Man" is sung in two notes, a G# leading to an F#, with the bass instrument going from D to C#. Now in classical composition that is a "No-No!" Two parts have just moved in parallel fifths. Bach made a mistake!
Clever! Peter and Bach. Both make a mistake at the same instant!
Oh, and then the crucifixion scene: lots of sharps (#) in the space of just a few measures. Clever! Why? "Sharp" in German is kreuze, which, by the way, also means "cross."
#he ins#rumen# of dea#h.
[Jesus Christ] emptied Himself, taking the form a bond-servant ….
Being found in appearance as a man, He humbled Himself
by becoming obedient to the point of death,
even death on a cross.
Philippians 2:7–8
And #he ins#rumen# of salva#ion.
For it was the Father's good pleasure for all the fullness to dwell in Him,
and through Him to reconcile all things to Himself,
having made peace through the blood of His cross;
through Him, whether things on earth or things in heaven.
Colossians 1:19–20
He died for us. Paying for our sins. So that we would be reconciled, rescued, redeemed!