Dirty!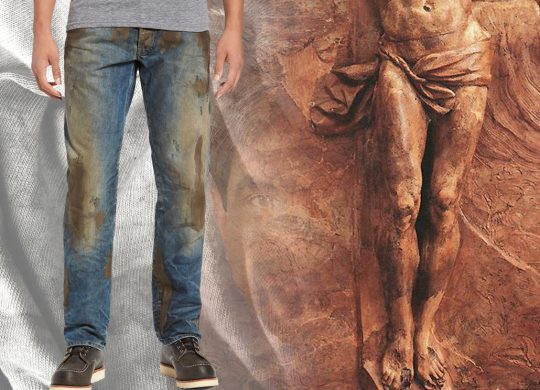 You got mud on your jeans? Don't wash it off. It might be worth a lot more now.
[No, I'm not kidding!]
Nordstrom sells them for $425 a pair! Shipped with the mud baked in.
Here's Nordstrom's description:
Heavily distressed medium-blue denim jeans in a comfortable straight-leg fit embody rugged, Americana workwear that's seen some hard-working action with a crackled, caked-on muddy coating that shows you're not afraid to get down and dirty."
They're called the "Barracuda Straight Leg Jeans." Yup, worth $425, mud and all.
As CNN discovered:
The dirt does not wash out, because it's actually not real dirt."
It's some kind of fake mud-like substance caked on the knees, pockets, and crotch of the $425 masterpiece.
In other words, the faux brown much is intended to make you look rugged and part of the "proletariat," the "blue collar class."
The internet took off on this mad scheme of the Nordies:
I have some with authentic mud on them for only $200 or best offer."
Said Mike Rowe, the former host of TV's "Dirty Jobs":
'Rugged Americana" is now synonymous with a "caked-on, muddy coating." Not real mud. Fake mud. Something to foster the illusion of work. The illusion of effort. Or perhaps, for those who actually buy them, the illusion of sanity. The Barracuda Straight Leg Jeans aren't pants. They're not even fashion. They're a costume for wealthy people who see work as ironic—not iconic.
Ouch!
And the Tweets continued:
Welp, it's official. Working class is en vogue."
And another:
If you want to look dirty and broke, here are those stupid dirty jeans. I'll stick to actual work."
And this:
My husband has jeans like this that he's been wasting on car repair."
More:
If you want muddy jeans, try hard work. That builds character, too."
And more:
For when you need a pair of jeans as fake as you are."
The retorts spilled on to Nordstrom's website, but have since been deleted.
A couple of choice ones read:
This is a joke, right? Do you also sell jeans covered in cow manure? Oh, that must be the deluxe model."
Another wisecrack:
Gotta love being able to look like I have fed the pigs, helped deliver a calf, and get the tractor unstuck without ever having to leave my BMW."
You want a pair? Too late, they've sold out!
We don't need faux mud on our clothes. We were born with them!
For all of us have become like one who is unclean,
And all our righteous deeds are like a filthy garment; …
And our iniquities, like the wind, take us away.
Isaiah 64:6
No washing will help. Only God can cleanse.
And that is applied to us when we believe that Jesus Christ, God incarnate, died and rose again, paying the price for our sins.
I will rejoice greatly in the LORD,
My soul will exult in my God;
For He has clothed me with garments of salvation,
He has wrapped me with a robe of righteousness,
As a bridegroom decks himself with a garland,
And as a bride adorns herself with her jewels.
Isaiah 61:10
And these new garments, folks, unlike Nordstrom's, are free!
Let us rejoice and be glad and give the glory to Him,
for the marriage of the Lamb has come and His bride has made herself ready.
It was given to her to clothe herself in fine linen, bright and clean;
for the fine linen is the righteousness of the saints.
Revelation 19:7–8
Praise God!