Drowned?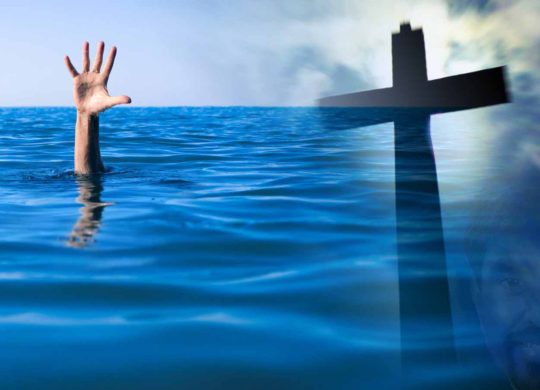 An odd thing happened the other day.
Mateusz Fijalkowski, 23, came to the USA from Poland on an international summer job program. He began working as a pool attendant in Fairfax County in 2016.
On his third day at work, he began to act weird, arguing with guests, delivering monologues in Polish, and so on. He ripped off one girl's wristband and prohibited her from entering the pool. At that, a lifeguard called the cops.
The police cleared the area and brought in a Polish-speaking officer as well as Fijalkowski's Polish roommate. He ignored them all and began to pray in Polish. He threw his cell phone into the shallow end of the pool and retrieved it—twice. Then he got into the water for a third time and ambled over to the deep end until he was completely submerged. He grasped a vent at the bottom of the pool and held himself down.
Sean Brooks, Fijalkowski's supervisor, and a lifeguard himself, dived in and within a minute pulled him out with the help of several police officers. The guy wasn't breathing and had no pulse. CPR was performed. EMTs arrived. A defibrillator was used. He survived.
He spent a long time in hospital, followed by a stint in a psychiatric unit, before returning to Poland.
But now Fijalkowski is suing the cops and the lifeguard. He wants money to cover his more than $100,000 in medical bills.
The police are incredulous. Said Fairfax County Police Chief Edwin Roessler:
They saved his life—he did not die. You're going to sue someone for saving your life? Had they gotten into the water earlier, my officers and the lifeguard would have endangered their own lives, and gotten dragged under by the fellow. There's no way to Monday-morning-quarterback this stuff. Everybody there saved this young man's life."
Quite an odd response to being saved, suing your saviors, don't you think?
In Ephesians 2:1–10 we are shown the picture of what our response ought to be towards our Savior.
Look at what God did ….
This is what we were in the past:
And while you were dead in your transgressions and sins,
in which you formerly walked according to the course of this world,
according to the ruler of the authority of the air,
[the ruler] of the spirit that is now working in the sons of disobedience,
among whom we all also formerly lived in the lusts of our flesh ….
Ephesians 2:1–3
This is what God did for us in the present:
But God, being rich in mercy, because of His great love with which He loved us, …
co-enlivened [us] with Christ … and co-raised and co-seated [us] in the heavenlies in Christ Jesus,
in order that in the coming ages He might demonstrate
the surpassing riches of His grace in kindness toward us in Christ Jesus.
Ephesians 2:4–7
Amazing! What a great salvation!
But why? For what purpose? Here's God's purpose for us in the future:
For by grace you have been saved … not OF works,
so that no one may boast, for we are His workmanship,
having been created in Christ Jesus FOR good works
that God prepared beforehand, so that we may walk in them.
Ephesians 2:8–10
Not of works are we saved (2:9), but saved we are for works (2:10)—good works already prepared by God for us to perform.
Once we walked in a deplorable and evil way (2:2). Now we are to walk in a displayable and holy way (2:10).
That's our response to our Savior!