Everywhere?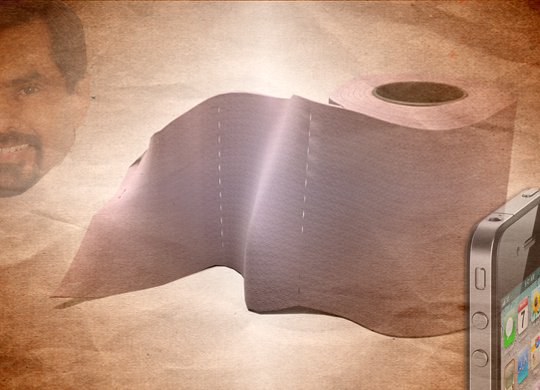 Several months ago, 11mark, a marketing and advertising agency, put out the results of a study of people's cell phone habits.
The study was labeled "IT in the Toilet." It went where no other surveys cared to go to assess the "bathroom benchmark" for cell-phone usage.
Apparently 75% of Americans don't go to the bathroom alone—they take their mobile devices along for company: 91% of those between 28 and 35 years of age. And even 47% of those 65 and older have engaged in the same activity. In fact, 25% of Americans say they will not mount the throne without their devices.
(OK, so I can guess where some of you are reading this.)
"IT in the Toilet" surveyed 1000 people and found that time on the privy was now consumed by talking, texting, shopping, playing, surfing, updating, twittering …. And that by both men and women (especially those with children, though more single people were guilty than married ones).
And I hope you are sitting down (elsewhere) for this: 20% of males—and 13% of females—have, at least once, participated in a conference call in the john. I assume it wasn't a video call, and that they didn't accidentally hit the FaceTime button.
The New York times declared: "This is, in a sense, a testimony to our collective passion for communication and contact over all other needs, and a lesson in how quickly ideas of decorum adjust to the times."
Oh, and if they are making calls on the toilet, they are most likely to be using a Blackberry. Potty-phoners!
If they are using an app or social-networking, it is more often on an iPhone.
But, in general, Android users (87% of them) appear to be more prone to toilet-use of the cell phone.
"The writing is on the stall," says Nicole Burdette, a principal with 11mark. "This study confirms what we all know—that the last private place is no longer private. And, that the 'mobile-everywhere' phenomenon is flushing out a host of new opportunities for savvy communicators."
Anyway, the point I wanted to make is the one about constant contact and connection. Always in touch.
While it is rather indelicate to move from toilet to theology, I'm going to try.
God is a prayer-hearing God.
O You who hear prayer,
To You all men come.
Psalm 65:2
And yes, God calls us to pray, to be in contact with him, at all times.
Pray without ceasing.
1 Thessalonians 5:17
Jesus set the example, himself.
It was at this time that He [Jesus] went off to the mountain to pray,
and He spent the whole night in prayer to God.
Luke 6:12
The miraculous speaking in tongues by the disciples on the day of Pentecost (which I'm sure included prayer) happened in the morning.
For these men are not drunk, as you suppose,
for it is only 9 O'clock in the morning.
Acts 2:15
They prayed at midday …
… Peter went up on the housetop about noon to pray.
Acts 10:9
And in the afternoon …
Now Peter and John were going up to the temple
at 3 O'clock in the afternoon, the hour of prayer.
Acts 3:1
And as I noted in an earlier RaMbLeS (here), all kinds of postures of prayer are biblically acceptable: kneeling, standing, sitting, lying down, in prostration, heads bowed, hands lifted up, eyes open, aloud, silent, weeping, singing, dancing ….
So I suppose one could conceivably go to the throne of grace from lesser thrones, too. I doubt that God minds.
"Pray without ceasing"—that's the important thing!