Eyes!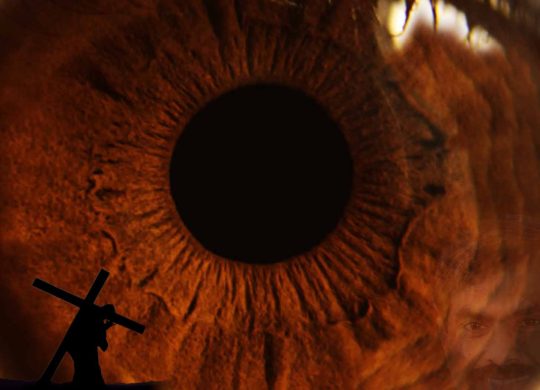 A recent study supported by the National Heart, Lung, and Blood Institute and the National Institutes of Health showed that the eyes, indeed, are "windows to the soul."
Well, at least windows to how well your brain might be functioning.
So claimed the authors of "Retinal Signs and 20-Year Cognitive Decline in the Atherosclerosis Risk in Communities Study," published in Neurology.
The study was done with 12,313 men and women in their late 50s who were tested for memory, language, and executive function/attention tasks. Another round of exams took place six years later, and a final set twenty years after the first. All this correlated with photos of each participant's retina.
Said lead author Jennifer A. Deal of the Department of Epidemiology at Johns Hopkins:
These photos provided a snapshot of what is going on in the microvasculature (small blood vessels) in the eye (and also, we think, the brain) at that point in time."
Normally one cannot see the tiny blood vessels in the brain through standard brain-imaging techniques, like an MRI, but because blood vessels in the eye and brain are similar, the hypothesis is that what's happening in one is happening in the other.
Over the two decades, 95% of participants demonstrated perfectly normal retinal blood vessels. 3% (365 people) had mild retinopathy (retinal vascular disease); 2% (256 people) had moderate to severe retinopathy.
What was interesting was that the group with moderate to severe retinopathy scored significantly lower on memory and thinking tests than those with healthy eyes. Over twenty years, that group had their average test scores reduced significantly reduced, compared to the scores of the bright-eyed (and presumably bushy-tailed) folks.
Said Deal:
We found a strong and significant relationship of retinal signs and cognitive decline."
Explained Rachel Bishop of the National Eye Institute (who wasn't part of the study):
This is not a surprise at all. If the retinal blood vessels are unhealthy, there's every reason to think that the brain blood vessels are unhealthy as well. The blood vessel supply is essential to all function, the function of all organs, and so if the blood vessels are unable to do their job, there's no way that the brain can be functioning as well as a brain that has a good supply."
This gives physicians hope that they can detect cognitive changes in brain function early enough and perhaps come up with interventions that alter the course of this otherwise negative event.
Your brain function in your eyes!
No wonder Jesus said:
"The eye is the lamp of the body;
so then if your eye is clear, your whole body will be full of light.
But if your eye is bad, your whole body will be full of darkness.
If then the light that is in you is darkness, how great is the darkness!"
Matthew 6:22–23
So much so, he warned:
"If your right eye makes you stumble, tear it out and throw it from you;
for it is better for you to lose one of the parts of your body,
than for your whole body to be thrown into hell."
Matthew 5:29
For the eyes of God are different:
Your eyes are too pure to approve evil,
And You cannot look on wickedness with favor.
Habakkuk 1:13
So …
Let your eyes look directly ahead
And let your gaze be fixed straight in front of you.
Proverbs 4:25
And …
Open my eyes, that I may behold
Wonderful things from Your law.
Psalm 119:18
Keep away that decline. Keep looking at God's word.