Fading?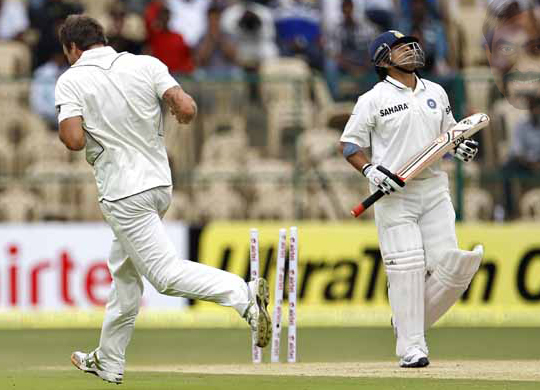 The man is an icon, the "god" of cricket. He's broken pretty much every record there is to break. And he's been at it for over two decades, having debuted in 1989, when most of his current teammates were toddlers!
And, yes, he's also 39, an age when most cricketers are retired and sipping their iced drinks in a commentary circle or in a columnist's chair or in a coach's class.
Sachin Ramesh Tendulkar, however, is still around.
But probably not for long.
After his performance yesterday morning came headlines like this: "'Tendulkar of old' to 'old Tendulkar'" (The Indian Express) and "What's Wrong with Tendulkar's Batting?" (The Times of India).
India is currently playing New Zealand, and for the second time in a row Tendulkar was clean bowled, a somewhat ignominious dismissal.
As one writer put it:
On 17, the batting maestro went for a drive to an overpitched ball. His feet weren't exactly there. There was a huge gap between the bat and pad and the moving delivery sneaked in and crashed into the stumps. … Tendulkar didn't even look back at the damaged furniture. He simply walked."
One of Indian cricket's other heroes from an earlier age, Sunil Gavaskar (yup, he's a commentator now) observed that the dismissal was a "worrying sign" that indicated that not only were Tendulkar's feet not nimble enough, his eyes were not picking the ball fast enough.
Even an amateur like me didn't need Gavaskar to announce that Tendulkar is not in his heyday. Nope. He is not in his pomp. These aren't those days when he did things no ordinary mortal could dream of doing in the world of cricket. The chinks in SRT's armor seem to be becoming crevasses. In his last five Test match (international 5-day games) innings, Tendulkar has scored, 8, 25, 13, 19 and, today, 17.
This from a guy who's scored over 33,000 runs in international cricket! A chap who is the only one to have made a 100 centuries (he has scored 100 runs or more, a 100 times)!
And he's been around long. Doug Bracewell (NZ) bowled out Tendulkar yesterday, 22 years after his uncle, John Bracewell (NZ) also dismissed Tendulkar in 1990, in Christchurch! Doug Bracewell, nephew and yesterday's hero, wasn't even born then!
I hope the pundits and I and all the naysayers are dead wrong. This man has given me and millions of others hours of pure cricketing bliss. And we hope to be beneficiaries of at least a few more. I hope the last five SRT innings are mere aberrations and anomalies—specks of dust on a shiny jewel that needs to be blown off.
But it can't last forever.
Things fade. Bodies. Minds. Reflexes. Sharpness. Acuity. Memory.
You [God] turn man back into dust
And say, "Return, O children of men."
… We have finished our years like a sigh.
… For soon it is gone and we fly away.
Psalm 90:3, 9, 10
Primetime is temporary, indeed. Fleeting. Transient. Ephemeral.
In the morning it flourishes and sprouts anew;
Toward evening it fades and withers away.
Psalm 90:6
But there is a better morning coming.
O satisfy us in the morning with Your lovingkindness,
That we may sing for joy and be glad all our days.
Psalm 90:14
And for that morning we wait.
For the trumpet will sound,
and the dead will be raised imperishable,
and we will be changed.
For this perishable must put on the imperishable,
and this mortal must put on immortality.
1 Corinthians 15:52, 53
Amen! May it come soon.