Feet!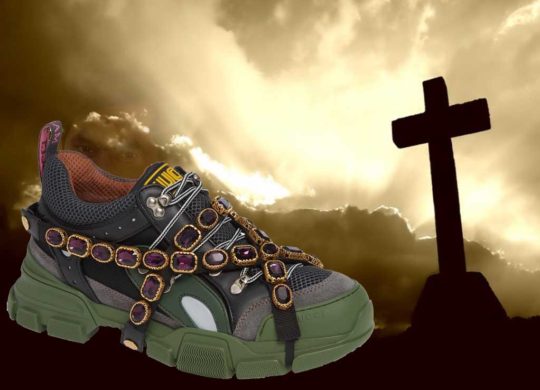 I found this on Nordstrom.com. Made by Gucci. "Flashtrek" Sneakers.
Wrapped in eye-catching crystals, this bold Italian fashion sneaker offers up a grand splash of color and light that is sure to turn heads."
It has a lace-up closure, is made of leather, mesh, suede and synthetic upper, has those crystal accents, and is equipped with textile lining, and a rubber sole.
Item #5667973. Made in Italy. Only $1,590.00.
(Unfortunately only size 11 (men's) is available, in case you wanted one of these pieces of swanky footwear.)
Bejeweled shoes. Fancy that.
But shoes do get dirty and no amount of "crystalling" will change that, will it? Nothing glamorous about shoes and the feet they cover with their ingrown toenails, athlete's foot, corns, calluses, fallen arches, strange odors. (No doubt, a dermatologist's dream!)
I was reminded of this verse:
… a ring of gold in a pig's snout …
Proverbs 11:22
Yet those unglamorous parts of the body, feet, turn up as a metonym for those who effectively proclaim God's word.
For "whoever will call on the name of the Lord will be saved."
How then will they call on Him in whom they have not believed?
How will they believe in Him whom they have not heard?
And how will they hear without a preacher?
How will they preach unless they are sent?
Romans 10:13–15
And then Paul continues:
Just as it is written,
"How beautiful are the feet of those who bring good news of good things."
Romans 10:14
He is quoting Isaiah 52, and in that prophet's next chapter we have this:
Surely our griefs He Himself bore, And our sorrows He carried;
Yet we ourselves esteemed Him stricken, Smitten of God, and afflicted.
But He was pierced through for our transgressions, He was crushed for our iniquities;
The chastening for our well-being fell upon Him, And by His scourging we are healed.
All of us like sheep have gone astray, Each of us has turned to his own way;
But the LORD has caused the iniquity of us all To fall on Him.
Isaiah 53:4–6
The Sin-Bearer, Jesus Christ, has taken all our iniquity away, and for those who believe in him, sin is no longer an issue between them and God.
Good news, indeed!
But the most momentous event of history, God becoming Man, and it is feet that are glorified!
"How beautiful are the feet of those who bring good news of good things."
Romans 10:14
I think of the feet of William Carey laboring in India bringing Good News and declaring:
Attempt great things for God, expect great things from God."
I think of the feet of John Geddie, the 19th-century missionary, whose gravestone on a lonely tomb in a South Pacific island reads:
When he came there were no Christians, when he went away, there were no heathen."
Or of the feet of Jim Elliot and the others martyred, but whose feet ultimately drew all of their killers to Christ. The same Jim Elliot who said, in 1948, before his death in 1956:
He is no fool who gives what he cannot keep to gain that which he cannot lose."
I think of the feet of my own older brother, proclaiming news of happiness, who told me over four decades ago that Christ died and rose again for my sins. How lovely!
How lovely on the mountains are the feet of him,
Who brings good news, good news,
Announcing peace, proclaiming news of happiness:
Our God reigns, our God reigns, our God reigns!
Lenny Smith (1974)
No need for jewels!