Flesh!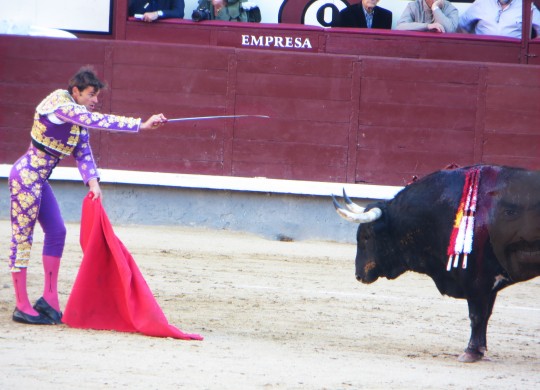 Two Sundays ago, I preached at Immanuel Baptist Church in Madrid, Spain. And then after lunch, I took in a bullfight. Yup, I did. At the Plaza de Toros de las Ventas! A bullfight!
A couple of days before my visit, of the six bullfights that night, the last three had to be canceled, because the bulls in the first three fights managed to gore the three matadors available. No more left. Fights called off. For the first time in 35 years.
(No, the three fighters weren't injured seriously.)
What a spectacle it was, that Sunday I attended. Nope, no matadors gored that day. All bulls killed. Depending on one's viewpoint about the whole drama, one might call it success.
[The debate is ongoing in Spain, whether bullfighting ought to be banned as a brutal relic of the past or not. Pro-fighting folks say it is entirely cultural and therefore must continue. Indeed reports of yesterday's bullfighting are found in the cultural sections of today's newspapers, not in their sports pages. And, apparently, bulls raised for fighting live up to four years in peace; animals reared for consumption are killed much sooner, though not in such a public display. And with Goya, Picasso, and Manet, among others, depicting the stunts in their paintings, what can one say? So the debate continues ….]
The hazards are many for the fighters, though after the rounds of weakening by frustration, provocation, and stabbing, the bulls are not much of a match for the matadors.
In the last 300 years, only about 530 fighters have died from wounds sustained in the arena. One of the most recent was José Cubero, nicknamed El Yiyo, in 1985. Only 21 years old, Mr. Cubero, had been enjoying a spectacular career as one of Spain's most brilliant matadors. A monument to him stands outside Las Ventas.
"Pali, this bull has killed me," he exclaimed, before losing consciousness and dying in that tragic fight about 30 years ago.
He had made one big mistake. Having thrust his sword a final time into a bleeding bull that then collapsed, José Cubero turned to the crowd to acknowledge the applause.
But the bull wasn't all gone. With a final rush of adrenaline, it rose and lunged at the unsuspecting matador, its horn puncturing his liver and heart.
I am reminded of the fleshly inclinations of sin. They never die. If we think they do, we risk being gored from behind.
We have what is called the "flesh"—not blood and bones and skin and stuff, but the ethical entity in us: the "flesh."
It causes us to be enslaved to sin.
For we know that the Law is spiritual,
but I am of flesh, sold into bondage to sin.
Romans 7:14
It possesses nothing of spiritual good.
For I know that nothing good dwells in me, that is, in my flesh;
for the willing is present in me, but the doing of the good is not.
Romans 7:18
It limits all our efforts to obey God.
For while we were in the flesh, the sinful passions,
which were aroused by the Law,
were at work in the members of our body to bear fruit for death.
Romans 7:5
It is always with us and will be with us till the day we die. Never think the "flesh" is dead before we are. Or we'll go the way of Mr. Cubero.
So put on the Lord Jesus Christ,
and make no provision for the flesh in regard to its lusts.
Romans 13:14
Watch out for the bullish "flesh"!