Friend!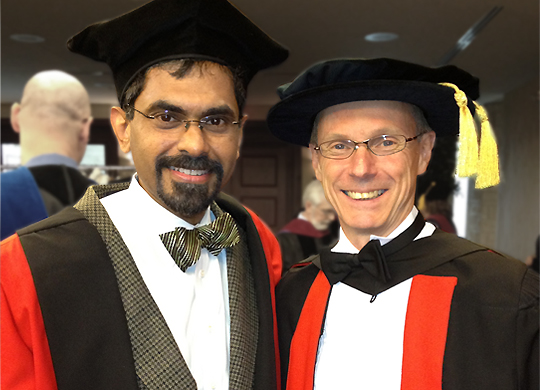 This was his last faculty engagement at Dallas Theological Seminary—its commencement exercises that were conducted a couple of weeks ago.
He's moving on to greener pastures.
(Though the extent of greenness outside Dallas Seminary is debatable!)
John Hilber, erstwhile tenured Associate Professor of Old Testament Studies at DTS, is moving on. He's taking up a professoriate at Grand Rapids Theological Seminary. By now, he and his wife, Charlotte, will have arrived there—truck, books, car, clothing, furniture, and all.
After eight years here at Dallas, John will be missed.
I, for one, will miss him sorely.
We had a lot in common, apart from our red robes signifying degrees from the UK (his is from Cambridge) and the same church we've attended. John is a pastor at heart, having served as one for fifteen years in the Seattle area. And his passion to see his students grow in the faith is admirable.
I desire my students to encounter Christ through my love for them and engagement with his word, and to leave the classroom better equipped for effective service."
That has been the driving force of his life and ministry.
With an abiding interest in the biblical text, particularly the Old Testament, we have talked oft and long over issues literary, matters theological, and enigmas exegetical. Numerous conversations. Lunches. Dinners. In Dallas, Rockwall, Mesquite, Boston, San Francisco …. Sharing gripes. Partaking joys. Being blessed.
Iron sharpens iron,
so one man sharpens another.
Proverbs 27:17
This man has sharpened me and I am grateful to God for having allowed our paths to cross.
John is always encouraging and supportive. He's even pored through boring manuscripts of my work to offer keen and percipient advice, and that when he was already deluged with his own work.
The righteous is a guide to his neighbor.
Proverbs 12:26
This guide will be missed.
He who walks with the wise will become wise.
Proverbs 13:20
And I like to think that I have become wiser because of my friendship with John.
Strangely enough (or maybe it isn't so strange), it is distance that brings home the value of friends, for we tend to take them for granted when they are in proximity. So it was in this case: it was hard to bid John goodbye at the end of Commencement.
But I look forward to continuing our relationship in the future, despite the 1000-odd miles that separate us.
C. S. Lewis, in his The Four Loves, said this about friendship:
Friendship is unnecessary, like philosophy, like art, like the universe itself (for God did not need to create). It has no survival value; rather it is one of those things which give value to survival."
Indeed! And especially so, for those of us who have chosen to remain single.
A friend loves at all times,
and a brother is born for adversity.
Proverbs 17:17
The greatest Friend, of course, is the One who died for mankind.
Greater love has no one than this,
that one lay down his life for his friends.
John 15:13
Jesus Christ, our only God and Savior, who died that we who believe in his atoning work for our sins may be saved.
And we're called to be sacrificial for our friends as well.
We know love by this,
that He laid down His life for us;
and we ought to lay down our lives
for the brethren.
1 John 3:16
That's how the world will know about love, the divine kind of love, as we manifest that love amongst ourselves.
John and Char, a very blessed and fruitful ministry and future for you wherever God takes you!