Gamble?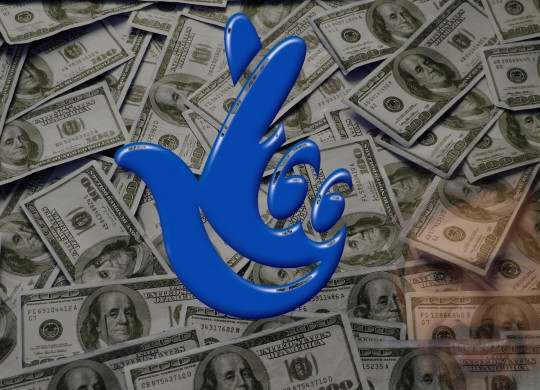 It's a nice fantasy. You walk into a gas station, give up a dollar, buy one of those tickets, and you win a huge lottery! Now you can buy your own island in the tropics and your own NBA team! Nice!
(That fingers-crossed blue logo is that of U.K.'s National Lottery.)
Last December the Mega Millions payoff in the U.S. was $648 million, just $8 million short of the record set in a March 202 drawing.
The Mega Millions website gives you the odds of hitting the jackpot: 1 in 258,890,850. Astronomical.
In comparison, here are things far more likely to happen:
Crushed to death under a snack-vending machine: 1 in 112,000,000.
Having identical quadruplets: 1 in 15,000,000.
Become the U.S. President: 1 in 10 million
Dying from bee, hornet, or wasp stings: 1 in 6,000,000.
Dying in a plane crash: 1 in 1,000,000.
Getting struck by lightning: 1 in 1,000,000.
Expiring in your bathtub: 1 in 850,000.
Being murdered: 1 in 18,000
Annihilated in an asteroid apocalypse: 1 in 12,500
Dying in a car accident: 1 in 6,500.
(Watch out as you drive to the store to purchase that lottery ticket.)
Tell that to the millions of fantasizers and dreamers lining up to buy Mega Millions tickets. What makes folks think that their $1 investment will yield staggering wealth? Fantasy, and the bigger the fantasy, the more hopeful we get.
Goldbart and DiFuria, in a piece in Psychology Today, label this "Lottery-itis." This affliction is a means of coping in times of economic stress with financial anxieties and uncertainties. They write:
We may seek a magic pill to make us feel better. Ah yes, buy a lottery ticket. Feel again like you did when you were a child, having hope that a better day will come, that some big thing will happen that will make everything right, set the course on track."
Hey, you might wake up and be an millionaire, even if the odds are against you.
George Loewenstein, a professor of economics and psychology at Carnegie Mellon University, says that people don't really understand probabilities. Once you have a bunch of zeroes, it doesn't matter how many you have—1 in 10,000, 1 in 1,000,000, 1 in 1,000,000,000. And, if it happened to someone last time, why not to me now?
Here's Loewenstein:
When people are desperately sick, there's always a part of the brain that thinks there will be a miracle cure. If you want something to be true, your brain is awfully good at figuring out reasons, magical ones, that there's a good likelihood that it is true. The desire to win does drive a certain kind of frenzied optimism."
Everyone hopes!
But the Bible says that true hope is sourced in one Person alone.
Why are you in despair, O my soul?
And why have you become disturbed within me?
Hope in God, for I shall yet praise Him,
My salvation and my God.
Psalm 42:5, 11
Protector, Defender, Sustainer, Savior!
Our soul waits for the LORD;
He is our help and our shield.
Let Your lovingkindness, O LORD, be upon us,
For we have hoped in You.
Psalm 33:20, 22
And this is not a wishful dream, but a concrete expectation, hope that has become faith.
Now faith is being sure of things hoped for,
the conviction of things not seen.
Hebrews 11:1
This trustworthy and faithful God is worthy of our faith!
Be strong and let your heart take courage,
All you who hope in the LORD.
Psalm 31:24
So save that $1. Lay aside fantasies. Hope in God!