Genesis: Introduction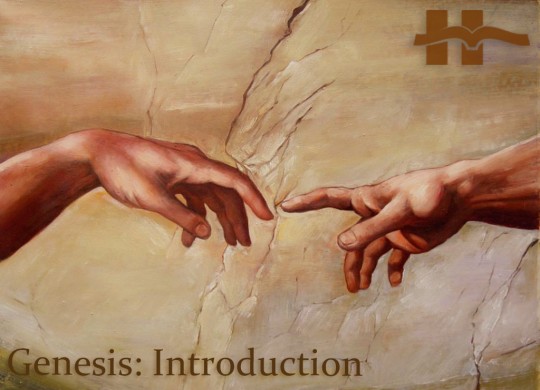 This is the first in a series of posts on each pericope of Genesis. This will essentially be a distillation of what is in my commentary (Genesis: A Theological Commentary for Preachers; more on the book, and a free chapter download, here). Of course, the book contains far more detail than can be reproduced here in a blogpost of 500–600 words. So—shameless plug!—you may want to get yourself a copy of the commentary, if what shows up on the aBeLOG whets your appetite.
Well, here we go, with a general introduction to the book.
The book of Genesis, commencing the Scriptures of God's people, appropriately focuses on divine blessing. Blessing is always divine in origin, for God alone is the source of all that is good, and he alone is the perfect Giver. And besides, God's intention has been, and always is, to bless.
God created man in His own image,
in the image of God He created him;
male and female He created them.
And God blessed them.
Genesis 1:27–28
The concept of blessing need not be limited to things in eternity and Christological promises. God's blessing for God's people happens throughout life in a variety of ways, circumstantial and providential, direct and miraculous. Indeed, "every good thing given" may rightly be considered divine blessing.
Every good thing given and every perfect gift is from above,
coming down from the Father of lights.
James 1:17
Genesis may be broadly conceived of as the inauguration of God's work to bring about blessing to mankind. The four major sections of the book, then, deal with different facets of divine blessing.
| | | |
| --- | --- | --- |
| GENESIS | SECTION | THEME |
| 1:1–11:26 | Primeval History | Creating for Blessing |
| 11:27–25:18 | The Abraham Cycle | Moving towards Blessing |
| 25:19–36:43 | The Jacob Cycle | Experiencing the Blessing |
| 37:1–50:26 | The Joseph Cycle | Becoming a Blessing |
The Primeval History (1:1–11:26) depicts God Creating for Blessing. His creation would be blessed by his presence in the cosmic sanctuary (see next installment of the aBeLOG), and everything was geared for mankind to experience this blessing. Humans were intended to follow divine guidance in order that they may live in the sphere of God's blessing. That the first pair proceeded to reject "every good thing given" in favor of their own choices is the sad story of humanity, repeated in every generation. God, however, was not one to give up so easily. He proceeded to choose one individual through whose seed he would bless all of mankind.
The Abraham Cycle (11:27–25:18) describes this patriarch's Moving towards Blessing, in fits and starts, faltering and stumbling. His story teaches God's people what it means to take God by faith—to have the "fear of Yahweh." The subsequent Cycles continue the family history that began with Abraham.
His grandson's story, the Jacob Cycle (25:19–36:43), tells us how one goes about Experiencing the Blessing; this narrative depicts one who is constantly chasing blessing in all the wrong places, in all the wrong ways, until he comes to the realization that only God can bless—that God alone is the true source of blessing.
The Joseph Cycle (37:1–50:26) extends the story of Jacob, prominently figuring one of his sons, Joseph: this section is all about Becoming a Blessing, i.e., being used of God to extend his blessing to those within one's own circle: family, tribe, society—as well as to those without: associates, fellow-citizens, nations, and the world at large.
In sum, Genesis describes the benevolent intentions of the Creator, and directs his creation on how to enjoy divine blessing and be agents of its disbursement to others—a fitting start for Scripture.
[For more details see the Introduction of Genesis: A Theological Commentary for Preachers.]