Genesis 18:1−19:38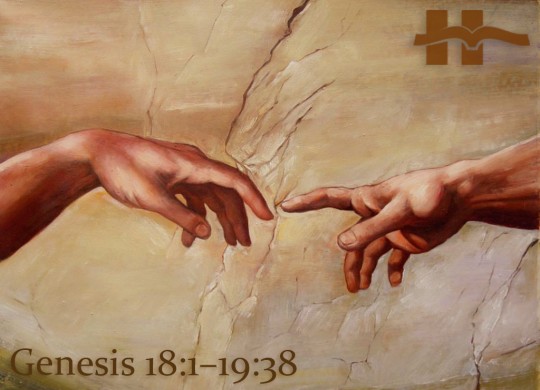 Failure to keep the way of God results in punishment, but the prayers (and life) of one keeping that way precludes it.
This section is essentially the story of Lot and of Sodom and Gomorrah, with divine justice as a distinct theme.
Abraham's household is called to be characterized by keeping Yahweh's way in righteousness and justice, in contrast to the depravity and turpitude characterizing the locale where Lot is situated—described as wicked and evil (19:7, 9). Aligning to the demand of God results in life abundant, blessed by God. The criterion for this prospering is described as "keeping the way of the Lord," and "doing righteousness and justice" (18:19). Failure to so align oneself and to walk in God's way demonstrating such qualities only results in loss of blessing and incurring divine punitive justice as illustrated by the story of Lot.
Abraham and Lot are tacitly compared in Gen 18 and 19. Both chapters have the same characters—Yahweh and the men with him (identified as angels in 19:1, 15), Abraham (in a cameo role in 19:27–29), and Lot (who is bargained for in 18:16–33).
In Gen 18, the patriarch is the gracious and lavish host (18:1–8), a confidant of Yahweh (18:17–21), and a solicitous pleader (18:22–33)—the philanthropic and altruistic attitude of the patriarch here is remarkable. Even if he was focused on the safety of his kinsman, their salvation out of a city marked for destruction is not what he appeals for. Rather, he would have Yahweh save the entire city just because of the presence of his kinsman there. As a result, God "chooses" the patriarch and spells out his purpose—the creation of a godly community that keeps "the way of Yahweh by doing righteousness and justice" (18:19). This is to abide by divine demand, and to be aligned to the will of God, thus bringing about promised blessing. And besides, the salutary effects of one keeping God's way are experienced by all those around that righteous one. At the end of our current story, rather than "God remembered Lot," we have, in 19:29, "God remembered Abraham" and therefore saved Lot—a case of the righteousness of one impacting the lives of many. While the compassion of Yahweh was upon Lot (19:16), the ground of divine saving grace was Abraham and his intercession. The intercession of a righteous man surely availeth much (Jas 5:16).
On the other hand is Lot. His collegiality with the Sodomites is seen in his address of his fellow citizens as "my brothers" (19:7). This is quite a revelation: earlier Abraham had attempted to make peace with Lot in the strife between their herdsmen, by recalling that they were all "brothers" (13:8). The text here seems to be indicating that Lot had, in effect, sacrificed his relationship with his uncle, and relocated to Sodom to forge another fraternity with evildoers. Besides, he is less bountiful to the angels than his uncle was (19:1–3), he is rejected as head of his household and as a citizen (19:4–9), and he is focused only on his own survival (19:18–22). Later, in shameful circumstances, Lot is inebriated and abysmally ignorant about his own misdeeds (19:30–38). And his final disposition, as far as we are told, is in a cave (19:30). Lot's ruin is complete.
The whole tragic episode closes with Abraham looking down at the devastated plain (19:27–28). Genesis 18, by the way, is the only chapter in the Abrahamic saga in which the patriarch does not utter a word. He is a silent spectator of the consequences of wickedness and great evil.
[For more detail on this passage see the appropriate section of Genesis: A Theological Commentary for Preachers.]