Genesis 30:25−31:16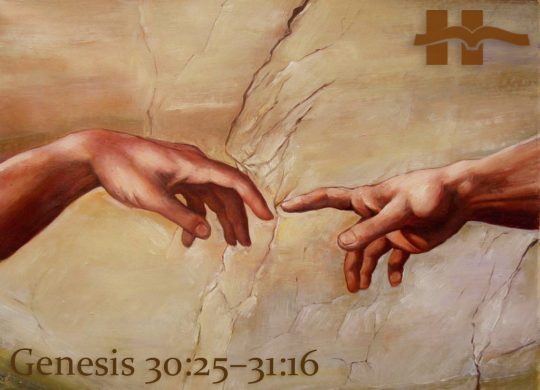 God sovereignly works to bless his children, as they work responsibly, even in adverse conditions.
A change of mind for Jacob comes with the birth of Joseph (30:25); he desires to return to his homeland. It was probably the entire sequence of events—especially the futile machinations of the female "Jacob," Rachel, until she surrendered and then was remembered by God—that brought Jacob to his senses. It was time to make some amends; it was time to go home. Later, in 31:3, we discover that this move was also commanded by Yahweh. Jacob is aligning himself to the will of God.
But Laban is not too pleased about the departure of his "slave," but he nonetheless invites Jacob to "name your wages" (30:28). An earlier request of Laban to Jacob that he specify his "wages" (29:15) was followed by deception. No wonder Jacob does not trust the same request from his father-in-law this second time. The earlier offer from Laban to "give" (29:19 [×2]) his daughter had turned out be fraudulent. Why should this current offer to "give" him his wages (30:28) be any less fictitious?
The marital contracts stipulated Jacob's service of fourteen years for his two wives (29:18, 27); that bargain, Laban kept, though the second of the two seven-year periods of servitude was foisted upon an unwitting Jacob. But there are six more unaccounted years that Jacob remained with Laban (31:38, 41). Therefore, at his departure at the end of that time, he could rightly claim more than just wives and children. At any event, an agreement is struck (30:34), though, apparently, Laban attempted to cheat Jacob a number of times (31:6–7a).
Jacob makes a reasonable request that his wages be the rarer multicolored sheep and goats in the flock (sheep are usually white; goats, black or brown) (30:32–33): no deception here. In fact, Jacob adduces his honesty explicitly, as he sets penalties on what would happen if the wrong kind of animal were found in his flock (30:33). Again, we see a transformed patriarch, not the deceptive one who stole his brother's blessing. This is further demonstrated in Jacob's reply to Laban's "What shall I give you?"—"You shall give nothing to me" (30:31)! This is surprising from a man who had, thus far, only sought to get from everybody around him.
The narrative of Jacob's husbandry of the flocks is cryptic (30:37–42). But Jacob's strategies seem neither deceitful nor accomplished in stealth. In any case, the outcome is clear: Jacob produces an abundance of livestock that are speckled, spotted, black, etc.,—his wages as he had stipulated to Laban. However it came about, it seems Jacob had done his best, using the best information on animal breeding techniques. But more importantly, Jacob, through all his endeavors, seems to have been cognizant of the fact that it was God who would give him the increase (31:6–13). Whatever might have been the scientific (or pseudo-scientific) explanation for Jacob's success, in the final reckoning God was the cause of the patriarch's checkmate of his uncle (31:1–13). Indeed, in Jacob's recital of the events to his wives in 31:4–13, there is no mention of his own activities, only of God's providence.
In effect, Laban's flocks are transformed into Jacob's! And the upshot was that Jacob became prosperous (30:43), fulfilling God's promise to him in 28:14. Notice how the statement of Jacob's prosperity is quite similar to that of his father and grandfather, explicitly said to be blessed by God (24:35; 26:13–14)—another clear indication of divine blessing in the description of Jacob's prosperity.