Genesis 31:17−55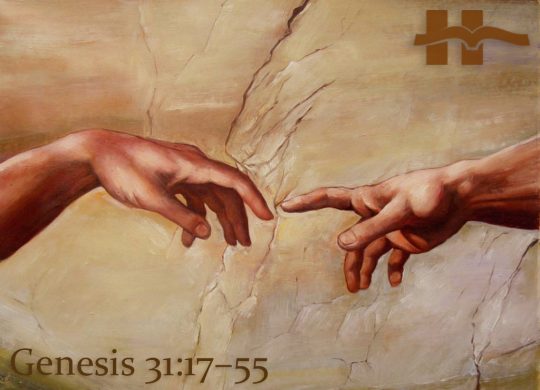 Remaining in the will of God ensures protection from potential consequences of sin even in one's own camp.
Jacob had been asked by God to "arise," "leave," and "return" to his homeland (31:13); and here he begins the long act of obedience (31:17–18). In the statement about "all the property he had gathered," there is an echo of his grandfather's migration from Haran to Canaan: he too collected "all the property he had gathered" (12:5), as he set out in compliance to divine will. Jacob was following a good example; his translocation was as important as the one God called his ancestor to, and equally centered in the will of God.
But Rachel, Jacob's wife, takes more than her belongings with her. She swipes the "teraphim"—a variety of household idols—belonging to her father, Laban. We have no idea why. In any case, Jacob is unaware of the "stealing" (31:19), but he does his own "stealing" in 31:20: "Jacob stole the heart [i.e., "deceived"/"outwitted"] of Laban." But Rachel had stolen literally; Jacob "stole" only metaphorically (31:31–32, 36–42). Hers was a felonious action; his leaving surreptitiously was a defensive maneuver (31:31). Her object of theft rightly belonged to another; his was a lawful acquisition: 30:26–43; 31:5–12, 17–18 (his children, his wives, his livestock, his property that he gathered, cattle he acquired). Besides, God had commanded him to depart (31:3, 13).
Laban, understandably, is not pleased by the burglary of his favorite gods. So he pursues and overtakes the outbound caravan of Jacob. But God appears to Laban in a dream warning him not to "speak"/"do" to Jacob "good" or "evil"—i.e., Laban was not the one in charge here, God was, and God was keeping Jacob safe.
In any case, the search for the missing gods commences. After hunting through Jacob's tent, Leah's tent, and the tents of their two maids, Laban finally ends up in Rachel's tent and "feels" it through (31:33–34, 37). Rachel, of course, was sitting on them and excused herself from rising before her father by claiming to be in her time of the month. Laban's search turns out to be in vain; thrice we are told that "he did not find" them (31:33, 34, 35). So those gods were saved by a menstrual cycle—quite a derogatory comment on those deities.
Interestingly, Laban's "feeling" through Rachel's tent harks back to Isaac's "feeling" Jacob to see if he was, indeed, Esau, as he claimed to be (27:12, 22). Jacob cheated his "feeling" father of the patriarchal blessing; here Mrs. Jacob cheats her "feeling" father of gods that presumably represented some kind of paternal blessing. Thus Rachel's deception is equated in seriousness with Jacob's deception of his father. In any case, the thrust of the episode is to show how Jacob is protected from danger despite deception within his own camp.
In the end, an aggrieved Jacob, vindicated by Laban's failure to have the accusation of thievery stick, lashes back at his father-in-law, summarizing all the mistreatment he had suffered the past two decades (31:36–42), acknowledging that only divine protection had kept him safe. Indeed, God had protected him from harm at the hands of Laban. But Rachel was in fact actually guilty. However, even in the presence of sin in Jacob's own camp, God's presence and protection are with the patriarch. Even the potentially dangerous consequences of a culpable act by a member of Jacob's household are averted by God's sovereign work. God's protection for the faithful is assured and real.