Genesis 34:1−31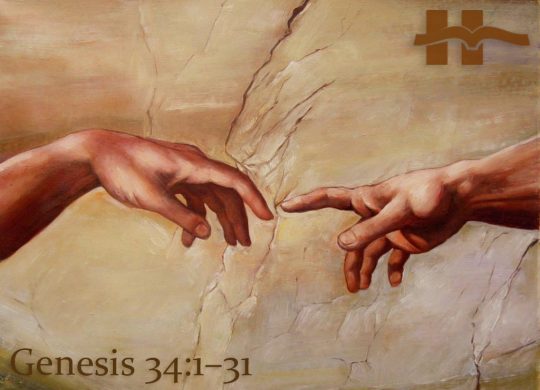 Enjoying God's blessings calls for responsible maintenance of moral standards in the face of worldly evil.
This is a sordid story, with no heroes. Everyone is culpable (except the victims: Dinah, sexually violated and voiceless, and the people of Shechem, brutally slaughtered or kidnapped).
Shechem, the son of Hamor, the Hivite, rapes Dinah, the daughter of Jacob (34:2). But, he seems to show some good faith as he and his father enter into negotiations with Jacob and his family; apparently Shechem did love Dinah and desired to marry her (34:3–4, 8).
Hamor is devious: his discussions with Jacob's family are not represented fairly to his own townspeople (34:8–17, 20–23): no mention is made of Dinah at all, and only the advantages for their city are emphasized (34:21, 23). Besides, all the while, Dinah remains in custody of the Hivites (34:26), making the transactions with the Israelites farcical. But, the father does defend his son: Shechem is called "son" six times (34:2, 8, 18, 20, 24, 26), and Hamor, "father" five times (33:19; 34:4, 6, 13, 19), emphasizing the parent-child closeness.
The sons of Jacob, Dinah's brothers, are deceptive: having gotten the males circumcised and incapacitated for a while, they attack and massacre the Hivite men and rape their city, a gross overreaction (34:13, 25–29). Ironic that, to avenge the taking of a woman by force, the sons of Jacob do exactly that themselves, capturing all the town's women after killing their men. But, these siblings of Dinah are righteously indignant about the despicable treatment of their sister, and that by a non-Israelite (34:7, 14, 31).
Jacob, the father of the raped one, is passive and cavalier: four times Dinah is labeled "Jacob's daughter" (34:1, 3, 5, 7), aggravating his culpable negligence. Jacob remains silent for most of the narrative (except for an irate protest of his sons' violent enterprises, 34:30); he is completely apathetic, demonstrating a total lack of concern for his daughter, being worried only about his status in Canaanite country. Jacob is named eleven times in Genesis 34, but speaks only once. And, not one good thing about this patriarch.
How about that? All the other named individuals or groups are culpable, but each has at least some redeeming quality or character. Except … Jacob! He is the one who is not portrayed as having done or said anything laudatory; his lack of action, emotion, and speech (till the very end, when his only utterance is a disgruntled protest that does nothing to redeem him) inculpate him. Hamor is a better father than Jacob, Jacob's sons are more concerned about morality and ethics than he is, and even Shechem, the rapist, has at least some positive qualities. Jacob alone stands uniformly condemned by his silence, his inaction, his last words.
Perhaps that is why, after the rape, Dinah is never mentioned again as Jacob's daughter; instead she is related only to her brothers: "their/our sister" (34:13, 14, 31) and even "our daughter" (34:17)—though Dinah's siblings continue to be called the "sons of Jacob" (34:5, 7, 13, 25, 27). Needless to say, after this point, Jacob is never referred to as "father," either. The narrator seems to be hinting that the father had abdicated his responsibility by virtue of neglect.
We are hard-pressed to explain Jacob's negligence in this pericope. Here was a man getting ready—finally—to enjoy the blessings of God he had struggled to obtain for the last two decades (see Genesis 25–33). God had blessed him (32:29), and now this! Needless to say, the enjoyment of the blessings of God needs action on the believer's part: apathy in the face of evil will not further one's experience of divine blessing. The continued experience of God's blessings requires … work.