Go!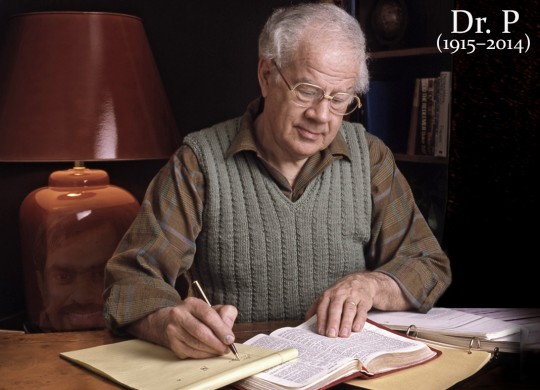 A Dallas Seminary legend passed into the presence of the Lord last Monday. Dr. J. Dwight Pentecost, aka "Dr. P."
He was 99 years and 4 days old, and only months after his last teaching session on our campus!
He came here in 1937 as student #100, in the then 12-year-old school that was Dallas Theological Seminary. And he's stayed here since!
Over 10,000 students taught. Over 20 books written. Over 62 years of faithful marriage. Over 55 years teaching at DTS.
Pastor, professor, paternal figure—after being widowed, Dr. P., for the last 12 years, has been staying in Swiss Tower, the married-students' housing quarters at DTS, father figure to students and spouses, grandfather figure to many of their kids!
When the 5-year-old daughter of a friend of mine who lived in Swiss Tower received a trampoline a few years ago, her parents asked her whom she wanted to invite to jump with her. She replied, without hesitation, "Dr. P.!"
(I never heard whether he took her up on it or not. He probably did. He was then only in his early 90s, after all.)
Besides the honor of serving with him on the DTS faculty, I also had the privilege of taking care of his skin, hair, and nails. And we shared the same barber, who, Dr. P. told me once, had been cutting his hair for 30 years!
President Mark Bailey said in his eulogy:
Few people have known the Word of God like he did, and few loved the God of the Word like he loved Him. His favorite phrases he used with me these past few weeks were 'God is in control' and 'God knows what he is doing.'"
And we know that God causes all things to work together for good to those who love God,
to those who are called according to His purpose.
Romans 8:28
The stool in front of the classroom is now empty. Dr. P. is now in the presence of his God, face-to-face with his Savior. He once said:
Knowing him is living; serving him is living; preaching him is living."
Now Dr. P. is really living, because … seeing him is living!
We know that when He appears, we will be like Him,
because we will see Him just as He is.
1 John 3:2
He's the man who wanted to be teaching till the Lord returned. The Lord hasn't … yet. But Dr. P. has. And is probably enjoying his many rewards.
In the future there is laid up for me the crown of righteousness,
which the Lord, the righteous Judge, will award to me on that day;
and not only to me, but also to all who have loved His appearing.
2 Timothy 4:8
Yup, classroom stools may be vacant; Swiss Tower residences may be unoccupied. But Dr. P is home!
The enterprising young man had a red Mercedes Benz roadster with a license plate that read "Acts 2:1."
When the day of Pentecost had come,
they were all together in one place.
Acts 2:1
Well, the day of "Pentecost" has come, after 99+ years. And I wish I were in the same "one place" as he is now.
I don't know what Dr. P's final words were here on earth. But I can guess.
You see, at the end of every class, he would pray, shut his Bible, scan the eyes of his students, and pronounce upon them a bold charge: "Go."
Now, he is gone. Leaving us with his exhortation: "Go!"
"Go therefore and make disciples of all the nations."
Matthew 28:19
"Go!"