Good!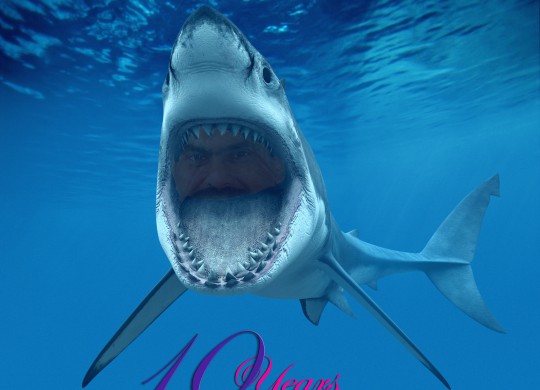 Eugene Finney. A most fortunate guy. For having had a dangerous encounter with a shark.
Yup, the man had a potentially fatal run-in with the species of deadly beast—a rendezvous that, paradoxically, ended up saving his life.
Mr. Finney was visiting his parents in Huntington Beach, in ye olde state of CA, with his girlfriend and two kids, Temple and Turner (aged 10 and 6) in tow.
The family hit the beach at the beach midmorning, and Eugene and Temple decided to go for a swim. They were about 100 yards offshore, in waters about 10–15 feet deep. Seeing a large wave approaching, father grabbed daughter to dive under the breaking wave. That's when he was struck!
I was hit in the back hard. Really hard. I've never been hit that hard in my life."
The two quickly resurfaced and made for the shore. Once in shallow water, Temple looked over to her Dad and asked, "Daddy, why is your back bleeding?"
Finney's girlfriend spotted fins in the water. Lifeguards ordered everyone out. Victim wasn't particularly hurt except for a deep cut across his back and assorted bruises.
Apparently a couple of days later, a surfer was also bumped by a juvenile great white shark.
Said Lt. Claude Panis of the Huntington Beach Marine Safety Division:
In my 38 years, I've never seen as many juvenile great white sharks approaching the beaches as I did this year … it's kind of an anomaly."
Finney returned home to Fitchburg (in ye older state of MA). But over the next few weeks his back problems and his chest pain caused him to visit his doctor.
It was when physicians were treating his blunt trauma wounds that imaging studies spotted a kidney tumor. Walnut-sized.
Minimally invasive robotic surgery removed the tumor, along with 20% of Finney's right kidney. Yup, it was malignant.
He is now declared cancer-free, with no requirement for chemo or radiation.
Declared Dr. Ingolf Tuerk of St. Elizabeth's Medical Center, in Brighton (also in MA):
If he didn't have the encounter with the shark, and given the fact that he's a healthy 39-year-old man, the tumor probably would have grown over the next five, six years. The surgery could have been significantly less successful had the tumor not been located early. The shark attack lead to a situation that saved his life. That's pretty fascinating when you think about it."
I'll say!
The Bible had something to say about that.
And we know that God causes all things
to work together for good to those who love God,
to those who are called according to His purpose.
Romans 8:28
And not just shark attacks. But all things.
What then shall we say to these things?
If God is for us, who is against us?
He who did not spare His own Son, but delivered Him over for us all,
how will He not also with Him freely give us all things?
Romans 8:31–32
Instead we "superconquer" all things.
Who will separate us from the love of Christ?
Will tribulation, or distress, or persecution, or famine, or nakedness, or peril, or sword? …
But in all things we overwhelmingly conquer through Him who loved us.
Romans 8:35, 37
Nothing, not even shark attacks, will separate us from God's love for us.
Neither death, nor life, nor angels, nor principalities, nor things present,
nor things to come, nor powers, nor height, nor depth, nor any other created thing,
will be able to separate us from the love of God,
which is in Christ Jesus our Lord.
Romans 8:38–39