Gordo!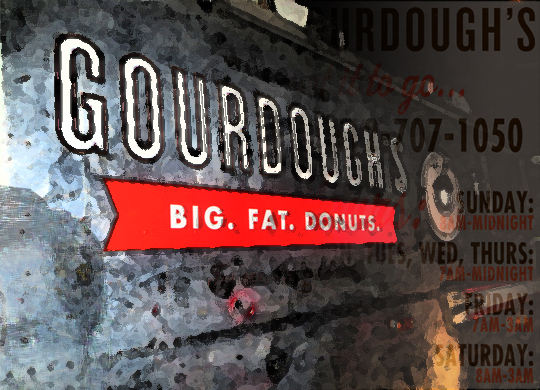 Last weekend, my nephew, John, and I went on a BBQ hunting mission around Austin, the capital of ye olde state of Texas. More about that another time.
Saturday night, after watching the 1,500,000 Mexican free-tailed bats hightail out of Congress Ave bridge at dusk (and more about that, too, another time), we felt a hankering for something sweet. This, you must remember, after a day of engorging ourselves on brisket all day from various highly rated purveyors of the same. All day!
We decided on Gourdough's.
Appropriate enough name for this establishment. Gordo in Spanish means "fat."
All they sell are doughnuts. Big. Fat. Donuts.
These are not your tiny, airy, ephemeral concoctions found in other joints. Oh, no. Gourdough manufactures huge specimens the size of a dinner plate and several inches thick. But it's their toppings that make you gordo.
You can get the Mother Clucker—with fried chicken and honey butter; the Funky Monkey—with grilled bananas and brown sugar; The Carney—with apple pie filling, cream cheese icing, caramel and roasted peanuts; Baby Rattler—with fudge icing, fudge oreos, and a gummy rattlesnake; Flying Pig—with bacon and maple syrup icing; etc. If none of these please, you can concoct your own.
All sold out of a shiny Airstream Trailer. All made to order. A whole meal. "Kryptonite for diabetics," the Austin Chronicle called it. And the show goes on till 3:00 am.
You may die soon, but you can die happy … and gordo!
Fat, corpulent, stout.
Unlike in modern days, when "fat" is a bad word, it was looked upon with favor in biblical times. Even God had a taste for fat.
From the sacrifice of the peace offerings
he shall present an offering by fire to the LORD,
the fat that covers the entrails and all the fat that is on the entrails.
Leviticus 3:3
It was the priced portion of the animal. Yes, it would be a real sacrifice to give that up. In those days when meat was a luxury, fatty food must have been a real extravagance.
It smelled good to God, too.
The priest shall sprinkle the blood on the altar of the LORD
at the doorway of the tent of meeting,
and offer up the fat in smoke as a soothing aroma to the LORD.
Leviticus 17:6
No doubt, many Christians have memorized …
The joy of the LORD is your strength.
Nehemiah 8:10
You would change your mind about fat if you looked at the rest of that famous verse.
Then he said to them, "Go, eat of the fat, drink of the sweet,
and send portions to him who has nothing prepared;
for this day is holy to our Lord. Do not be grieved,
for the joy of the LORD is your strength."
Nehemiah 8:10
So bring it on.
Gordo!
Once in a while such a splurge is OK. But in a time when calories are easily available, and dirt cheap, one must be careful not to burst out of that waistline and clog those humble coronaries.
And Jesus said to him,
"The foxes have holes and the birds of the air have nests,
but the Son of Man has nowhere to lay His head."
Luke 9:58
The King Himself is stripped for battle. Lean and mean. Delgado! Not gordo!
Splurge by all means … occasionally. Celebrate with fat … infrequently.
But let's balance those intermittent intemperances and sporadic excesses with constant generosity, habitual simplicity, and regular fasting.
That's good stewardship of God's resources.
Lean and mean. After the manner of the King we follow.