Gratitude!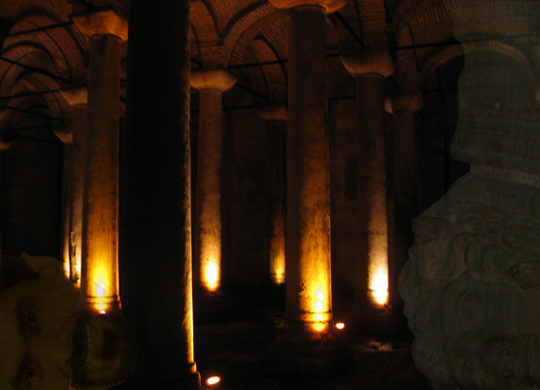 It's a weird structure. The Basilica Cistern (or Yerebatan Sarayı = Sunken Palace) in Istanbul. Right across from the Hagia Sophia. Apparently there was a great palace on top in the 3rd and 4th centuries—hence "Basilica." Later, it was converted into a cistern, mostly underground, by the Byzantine Emperor Justinian in the 6th century.
It is appropriately named, though. The cistern is the size of a palace and actually looks like one. It is a huge underground chamber 450 feet × 200 feet (about two football fields in area), and can hold about over 20 million US gallons of water. The fascinating thing is that its ceiling is supported by a virtual forest of 336 marble and granite columns, each about 30 feet tall, with Ionic and Corinthian capitals. It is thought that all these grand columns were recycled from even more ancient ruins (technically "spoliation") from all over the Roman Empire. At one remote corner of the cistern there are even a couple of Medusa heads, plundered from who knows where, being used as the bases of columns. Likely ancient Roman in provenance.
Today, though, the Cistern is a tourist attraction, with only a few feet of water at the bottom. Oh, and it figured as a location in From Russia with Love, the 1963 James Bond movie.
The water in the Basilica Cistern comes from Eğrikapı Water Distribution Center about 12 miles north of Istanbul, and travels through the 3,200 feet-long clay pipes and aqueducts, built by the Emperor Justinian himself. Over a period of time, however, pipes clogged, and the whole affair fell out of use. Time passed. Disuse became neglect became ignorance. People in later centuries didn't even realize the cistern existed. One Ottoman historian records that residents in this area seemed to be far luckier than others, because all they needed to do to get water, was drop a bucket into any well and—voila!—God-given water. Little did they know that they were dipping their containers into a Byzantine masterpiece of construction.
Interesting, that they were getting what they needed not knowing where it came from. Probably true, for most of us, too, in some form or another.
We enjoy the benefits God provides, without consciously recognizing his hand in its provision, his grace.
Grace in His nurture of all creation.
He causes His sun to rise on the evil and the good,
and sends rain on the righteous and the unrighteous.
Matthew 5:45
Grace in the sustenance of God's creation.
And He … upholds all things by the word of His power.
Hebrews 1:3
And, not to mention, the innumerable blessings we enjoy individually on a daily basis: food and drink, work and leisure, air and water, divine protection and loving provision,  families who love us, friends who care for us, ….
But, most of all, Jesus Christ and his saving work on the cross, God's grace to believers by which they have been …
… declared righteous as a gift by His grace
through the redemption which is in Christ Jesus.
Romans 3:24
Lest we forget, like those who drew water from the cistern without realizing what was down there, we must remind ourselves that …
… every good thing given and every perfect gift is from above,
coming down from the Father of lights.
James 1:17
And our response out to be gratitude …
… always giving thanks for all things
in the name of our Lord Jesus Christ to God.
Ephesians 5:20
And thus we honor God.
He who offers a sacrifice of thanksgiving honors Me!
Psalm 50:23
Let's honor him!