Head?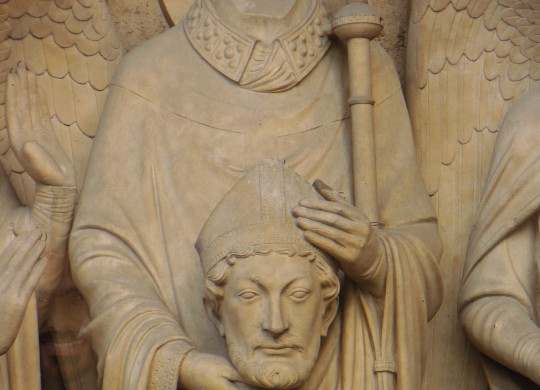 The left portal in front of the Notre Dame Cathedral in Paris (the west façade) (Portal of the Virgin) has a number of saints on either side of the doors. One of them is St. Denis. The dude is easily recognized: he is carrying his own head!
St. Denis (or Dennis or Denys or Dionysius) was, in the third century, the Bishop of Paris. Denis had been sent from Italy to convert Gaul and was having quite a bit of success in Paris. This enraged the pagan priests in the vicinity. They, therefore, taking advantage of the anti-Christian sentiment during the reign of the Roman Emperor Decius (201–251), beheaded Denis.
Apparently, to the dismay of his opponents, our man Denis did not stop preaching simply because his head was removed from the rest of his body. He is said to have picked up his head and walked six miles from the site, preaching all the way!
Having just finished another academic year of teaching preaching at Dallas Seminary, I know all about this phenomenon, rather common these days. But with a slight difference: folks preaching without their heads. Happens a lot. Oh, yeah! Headless preaching! And not just in our preaching classrooms, mind you. You'll probably hear a lot of this acephalic sermonating this Sunday yourself.
(Personally, I've a lot of trouble preaching even with my head attached to the rest of me.)
But back to headless St. Denis, who I must say was quite different from aforementioned examples. Denis's head preached, without being attached to his body. His wasn't headless preaching, it was bodyless preaching, not that that makes it any easier.
(Reminds me of Sir Nicholas de Mimsy-Porpington, known to Potter fans as Nearly Headless Nick. This gentleman attended Hogwarts School of Witchcraft and Wizardry and belonged to Gryffindor House. Some magical mishap led him to be executed with a blunt axe that nearly decapitated him. He died nonetheless, and now—at least in J. K. Rowling's fancy—roams the halls of Gryffindor Tower at Hogwarts Castle, a ghost, nearly headless. But St. Denis was different from him too. Denis completely lost his head. [I know what you're thinking: That's why he began to preach. Who in their right senses would engage in such an activity?] But I digress.)
Finally—I suppose (and hope) after finishing his sermon—St. Denis (and his talking head) died. The location where he took his last breath (how, without lungs attached to mouth/nose?) was marked by a shrine that developed into the Cathedral Basilica of Saint Denis (Cathédrale royale de Saint-Denis), which became the burial place for all the kings of France.
This carrying of his own head, while certainly bizarre, is not unusual in the annals of saints ("hagiology"). St. Denis is one of several hundred cephalophores (Greek for "head-carriers"). And if that weren't enough, this guy, Denis, is also one of the "Fourteen Holy Helpers"—a group of saints venerated in Roman Catholicism for their intercession against a number of diseases. I'll give you one guess as to what affliction St. Denis's intercession is good for.
Yup, "relief of headache."
In any case, for those of us who are (reasonably) intact, ministry of the headless or bodyless variety is meaningless. For Jesus said …
"You shall love the Lord your God
with all your heart, and with all your soul,
and with all your mind.
This is the great and foremost commandment."
Matthew 22:37–38
With every limb, organ, tissue, and cell. With every fiber of our being. With every breath. With every heartbeat. With all of who we are.
Love the Lord!