Help!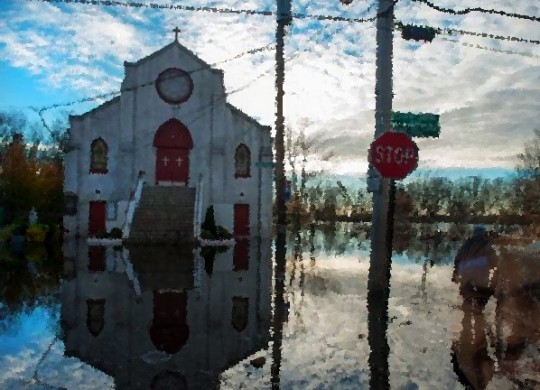 The largest Atlantic hurricane on record and the second-costliest Atlantic hurricane in history, Hurricane Sandy, devastated parts of the Caribbean, Mid-Atlantic and Northeastern coast of the United States.
The Wall Street Journal estimated total losses ranging from $30 to $50 billion. The number of lives lost and families shattered from this big storm continues to climb, with the death toll now at more than 110.
In the US, New York was particularly hard hit: the subways were flooded, road tunnels were closed, many suburban communities were underwater, the NYSE was shut down, and numerous homes and businesses were destroyed. About 48 people lost their lives in New York. Gas shortages continue. Several million still without power two weeks after the storm hit. Fringe elements continue to loot, some of them even posing as rescue workers.
All this despite the existence of a Federal Emergency Management Agency (FEMA), which, by some accounts, remains in a state of chaos. All this despite New York Governor Andrew Cuomo declaring a state of emergency for every county, and President Barack Obama signing another emergency declaration for the state, and Health and Human Services Secretary Kathleen Sebelius proclaiming a public health emergency for New York.
When the hurricane made landfall in the Northeast on October 29, The New York Times posted an op-ed piece: "A Big Storm Requires Big Government."
There you go! Government to the rescue! That's what we need!
Really?
My good friend (and Dallas Seminary alumnus), Ed Cole, pastors Salem Church in Staten Island that got the worst of the storm. I'll let his own words tell the story (adapted from his blog here).
While surveying the unfathomable devastation in Hurricane Sandy's wake yesterday, I was simply overwhelmed. I had never seen anything like it—large boats on the roofs of houses, cars carried several blocks from where they had been parked earlier, homes demolished, rubbish and destroyed household items strewn on streets and empty lots for as far as the eye could see, mile-long lines for gasoline (where there isn't even any gas to buy!) and huge trees snapped like twigs. Some parts of Staten Island look like a war zone. But the worst thing I saw was the blank stares and the hopelessness on the faces of so many people, whose lives were turned upside down.

It's against this backdrop the Church gets to shine the brightest.

Jessica and I lost phone service and power on Monday and like many in the congregation are still without power. But we are fine! But we know that some in our congregation and many in our community have suffered a lot more than loss of power.

Let's remember to love our neighbors. In the aftermath of this unprecedented event, we have an opportunity to tangibly live out our faith in Christ—to give of ourselves relationally, hospitably, and financially in life-transforming ways.

Salem is now a distribution hub for the North Shore. The Tom Maddox Memorial Gymnasium is now the Tom Maddox Distribution Center! Trucks and U-hauls from all over the country arrived Tuesday and Wednesday, delivering thousands of blankets, bottles of water, cleaning supplies and clothing, etc. Thousands of dollars of Salem Relief Fund money have been dispensed.

Salem has begun to fast track a process to help displaced residents with transitional housing so they can get on with rebuilding their lives. Please begin to pray for our Disaster Relief team leaders as we take this major step of faith.

Pastor Eddie
The Body of Christ! Better than Big Government, don't you think?
Bear one another's burdens, and thereby fulfill the law of Christ.
Galatians 6:2
Amen!