Honesty!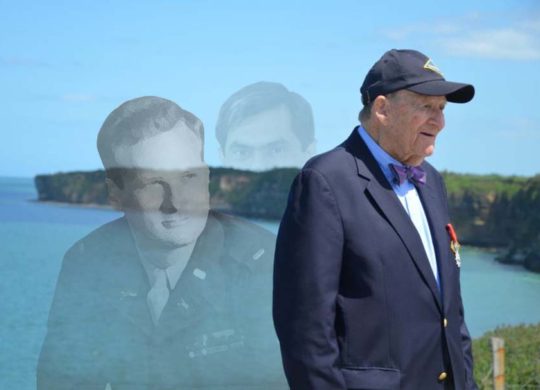 George G. Klein, 96, is a World War II Veteran acclaimed as "one of the great celebrities" and a war hero as a veteran of the battle against the Germans in Normandy. He was celebrated during the 73rd anniversary of Normandy during a ceremony recently, honored as one of the 90 survivors in the elite 2nd Ranger Battalion that fought on the cliffs of Pointe du Hoc on June 6, 1944.
The guy participated in several commemorative events and, wearing his "Ranger" hat, signed hundreds of autographs. A kindly old man of 96, and a brave soul at that.
Marc Laurenceau, of D-Day Overlord, a French non-profit dedicated to the Battle of Normandy, said:
His good humor and smiles were not feigned: George expressed his joy of returning to Normandy for the second time and meeting the Normans, explaining 'I am not a hero. The real heroes are those who have lost life here.'"
Klein's victory tour of Europe was made possible by a crowdfunding program paid for by dozens of donors and organized by volunteers with D-Day Overlord.
There was only one small problem. Weeks after his return from Europe, the news was made public: George Klein was in Northern Ireland at that time, with the B Battery of the 46th Field Artillery Battalion, not in Normandy.
But over the last 20-plus years, Klein had been claiming to have been an officer in F Company of the 2nd Ranger battalion, even recounting the three days he spent fighting German soldiers at Pointe du Hoc, scaling 100-foot cliffs.
Laurenceau again:
His story had every reason to be plausible: with a real experience in the Rangers' unit, the artilleryman had broken his ankle during a climbing training during the year 1943 and had to give up any hope of remaining in this elite unit. Back in his artillery regiment, he accepts this failure with difficulty."
So Klein came up with this.
Of course, this gross dishonesty cannot detract from his exploits in World War II: he was deployed and wounded in the French arena, for which he won the Bronze Star and Purple Heart, as well as France's Croix de Guerre 39–45 medal and their prestigious Legion of Honor military award.
Nonetheless, his mendacity is a dark blotch on an otherwise stellar military career.
According to Laurenceau, Klein is not alone in this nefarious intent. There are others who have falsified their presence in Normandy.
Did I mention Klein was 96? I suppose the adage is true: "The older I get, the better I was."
Wrote one commenter about the seriousness of misrepresenting one's military service:
In doing so, a person seeks to elevate his or her own perceived value while diminishing that rightfully belonging to someone who really did the work, faced the dangers and accomplished the missions. The lie creates no overt harm, but it does leave an indelible blemish on the teller when the truth comes out. Mr. Klein is a hero, he didn't need to embellish his exploits—he is a decorated war hero—but unfortunately, he has tarnished his service and worse dishonored those who died that day landing on the beach."
Confessed Laurenceau:
His family is devastated. And we, too, because we believed his story."
No wonder the Bible denigrates dishonesty and exalts uprightness.
He who walks in integrity walks securely,
But he who perverts his ways will be found out.
Proverbs 10:9
Truthful lips will be established forever,
But a lying tongue is only for a moment.
Proverbs 12:19
Lying lips are an abomination to the LORD,
But those who deal faithfully are His delight.
Proverbs 12:22