Hypertension?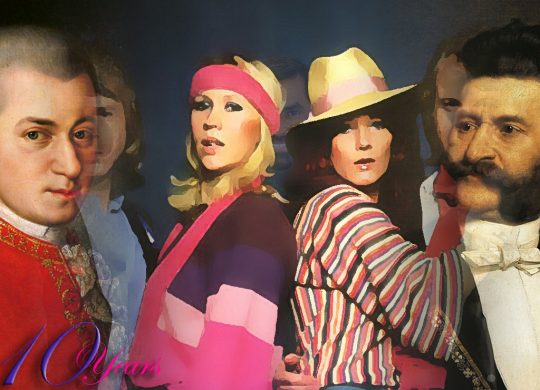 The verdict is in. There is another way to lower your blood pressure. And not with drugs.
Mozart! Yup, Mozart.
Hans-Joachim Trappe and Gabriele Voit of Ruhr University in Bochum, Germany, said so last month, in "The Cardiovascular Effect of Musical Genres: A Randomized Controlled Study on the Effect of Compositions by W. A. Mozart, J. Strauss, and ABBA" (yes, and ABBA!), published in Deutsches Arzteblatt International.
Relaxing to a soothing symphony by aforementioned Wolfgang Amadeus M. (1756–1791) can lower your blood pressure—get this!—as much as limiting salt in your diet or engaging in exercising.
120 volunteers (60 listening to music, 60 to silence) were engaged in the study. The music employed for the 60 music-listening subjects was Mozart's Symphony No 40 in G minor (KV 550), dances by Johan Strauss Jr. (1825–1899), and songs by the Swedish pop group ABBA.
In participants listening to Mozart, systolic blood pressure fell by an average of 4.7 ± 8.6 mm Hg, in those listening to Strauss by 3.7 ± 9.2 mm Hg (p < 0,001 and p = 0.003). In participants listening to ABBA, no relevant changes in systolic blood pressure were observed; it fell only by 1.7 ± 8.8 mm Hg. Under conditions of silence (control group), blood pressure also fell, at mean of 2.1 ± 7.5 mm HG (p = 0.038), but much less so than with Mozart or Strauss."
Same with diastolic blood pressure.
Stay away from ABBA, if you know what's good for your heart.
But all three types of music reduced the volunteers' heart rate, the greatest effect being achieved by … yup, Mozart (5.6 ± 9.8 beats per minute). And, for all musical genres, a drop in serum cortisol levels was also observed (cortisol is a stress hormone produced by our adrenals). Again ABBA did not decrease the levels as much as did WAM or JS.
That music has a relaxing effect on humans has been known for a while. Apparently, athletes competing in the ancient Olympic Games listened to music to improve their performance. Babies listening to Mozart in the womb turn out to be calmer and less aggressive after birth. And aerobic exercise (cycling, running, brisk walking) had a similar impact on lowering one's blood pressure. But who wants to cycle, run, or walk briskly, when one can sit still (better: lie still) and listen to Mozart? And if you reduce your salt intake by about 6 grams a day, that will lower your systolic blood pressure by about 5–7 mm Hg. But again, who wants to cut salt out, when you can just soothe yourself with ol' Wolfie and accomplish the same thing?
The ABBA effect is unclear.
This may be due to emotional factors, but on the other hand the use of spoken words may have a negative role. … Independently of the qualitative effect, increased neurological activation should be considered, which is triggered by the processing of the vocals/lyrics."
Anyway, give pop music a wide berth, is all I have to say.
But I'll suggest the best way to steer clear of stress and attain peace: go the Lord!
In peace I will both lie down and sleep,
For You alone, O LORD, make me to dwell in safety.
Psalm 4:8
The LORD will give strength to His people;
The LORD will bless His people with peace.
Psalm 29:11
Those who love Your law have great peace,
And nothing causes them to stumble.
Psalm 119:165
Now may the Lord of peace Himself continually grant you peace in every circumstance.
The Lord be with you all!
2 Thessalonians 3:16