Imbalance!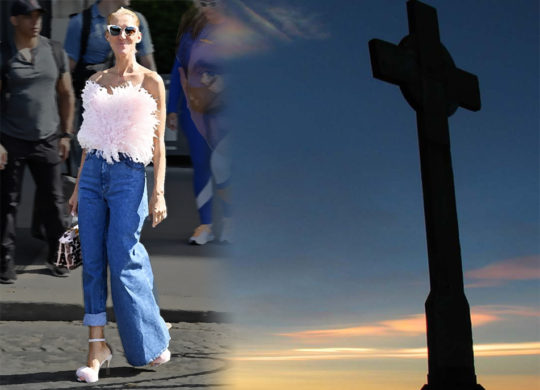 You've heard of skinny jeans and baggy jeans. But there's a new kid in town now.
Asymmetric jeans!
Gives you the best of both worlds, because one leg is wide and the other is skinny!
Apparently, these unconventional deals have been creeping their way into fashion in the last several months.
Maybe you couldn't decide if you wanted your lower extremities to be wrapped in something skin-hugging or if you wanted an elephantine look? Or maybe one of your legs tends to get hotter than the other? (I'm not sure you can customize which leg has which fit.)
Bizarre, if you ask me. And I'm not alone. Hoda Kotb, co-anchor of TODAY, joked that the look must have come from a "designer who was drinking."
Commented another on Twitter:
My ancestors fled France due to religious persecution but at least they didn't have to see asymmetric jeans."
But fashionista Celine Dion appears to enjoy the look, and wore a pair of these things to Paris Haute Couture Fashion Week this summer.
So, if you want to be on the cutting edge of fashion (and you are a woman; nope, no men's option on these), head to Niemann Marcus. Only $462.00. And you, too, can wow your world!
Designer Ksenia Schnaider decided to give the world what it never asked for (or even thought about). Said she:
So far, some people have loved the asymmetric jeans, but others have asked me if they're some kind of joke. I was told the idea was too crazy and that nobody needs jeans like this, so I gave up on the idea for a couple of seasons, but in the end I decided to go for it. It's good to get people talking, and they're definitely going to make people turn their heads as you walk by!"
That's for sure!
Alexander Pope (1688–1744) said it well:
"Be not the first by whom the new are tried,
Nor yet the last to lay the old aside."
The Bible has nothing whatsoever to say about asymmetric jeans, but it says this:
All things are lawful for me, but not all things are profitable.
1 Corinthians 6:12
Moderation is probably a better idea than asymmetry and imbalance. In all things.
It is not good to eat much honey,
Nor is it glory to search out one's own glory.
Proverbs 25:27
Besides, things we put on our bodies are definitely not the best adornment.
Likewise, I want women [and men aren't exempt]
to adorn themselves with proper clothing, modestly and discreetly,
not with braided hair and gold or pearls or costly garments,
but rather by means of good works,
as is proper for women [and men] making a claim to godliness [theosebeia].
1 Timothy 2:9–10
"Making a claim to godliness." I love that.
The entire community of God—men, women, children, of all ages, from every tribe, tongue, and nation—is to exhibit "godly" lifestyles.
The goal is …
… that we may lead a tranquil and quiet life in all godliness [eusebeia] and dignity.
1 Timothy 2:2
Besides, "good works," the ideal adornment, are to be evident in the lives of all of God's people. Indeed that's what Christ gave himself for …
… to redeem us from every lawless deed,
and to purify for Himself a people for His own possession,
zealous for good deeds.
… those who have believed God will be careful
to engage in good deeds.
Titus 2:14; 3:8
So …
Whether, then, you eat or drink or whatever you do,
do all to the glory of God.
1 Corinthians 10:31
SOURCES:
TODAY.com, Guardian.com