Imitation!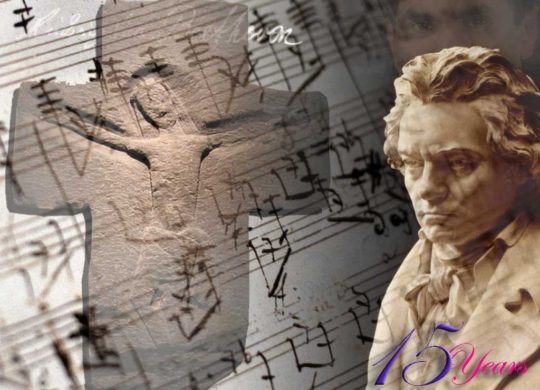 Ludwig van Beethoven (1770–1827) wrote some remarkable stuff, among them nine symphonies.
Apparently he had also begun working on the Tenth Symphony alongside his magnificent Ninth, with its epochal "Ode to Joy." But quickly gave up on the former, leaving only a few notes and drafts, scribbling a few notes in notebook before he died, fragmentary sketches for the first movement of his Tenth.
Well, guess what?
Musicologists and computer programmers are working to complete Beethoven's Tenth … using artificial intelligence!
Just in time for the 250th anniversary of his birth this year!
Said Christine Siegert, head of archives at the Beethoven House, in the maestro's hometown, Bonn.
The progress has been impressive, even if the computer still has a lot to learn."
The final result of the project will be performed by a full orchestra on April 28 in Bonn, a centerpiece of celebrations for a composer who defined the romantic era of classical music.
Admitted Dirk Kaftan, conductor of the Beethoven Orchestra, also based in Bonn, the ensemble that will perform the piece:
"It's completely new territory. We musicians are in two minds about it."
Not everyone is happy. Critics of the project are concerned about protecting Beethoven's legacy. But Siegert insists the work would not affect the composer's legacy because it would never be regarded as part of his oeuvre.
In the AI project, sponsored by Deutsche Telekom, machine-learning software was fed all of Beethoven's works. "It" (or whatever you want to call the complex of machinery) is now composing a potential final version of the full symphony in the composer's style.
Barry Cooper, a British composer and musicologist, professor at the University of Manchester, had himself tried his hand at completing the Tenth in 1988. It was even performed. But Cooper was dubious about the current enterprise.
I listened to a short excerpt that has been created. It did not sound remotely like a convincing reconstruction of what Beethoven intended. There is, however, scope for improvement with further work. In any performance of Beethoven's music, there is a risk of distorting his intentions, especially in this case, where we have been left only fragmentary material."
Some readers put in their $0.02 worth of disapproval online. Commented "DaisyM":
There is a universal feeling of emotion which runs through [Beethoven's] work like a great river flows, like the blood flows through our body …. This cannot be replicated by a computer."
And "J" added:
AI is not some panacea of intelligence, it's algorithmic totalitarianism."
And Nik, more pragmatically:
Desperately silly. He croaked. Get over it!"
Yoda couldn't resist a wisecrack:
It has to be done because Beethoven is no longer composing. He's decomposing."
Well, I gotta tell you, Jesus ain't decomposing. And he calls us to compose the rest of "his life." Which is God's goal for us:
For those whom He foreknew, He also predestined to become conformed to the image of His Son.
Romans 8:29
This is an imitation of Jesus, in a sense, a constant growth in Christlikeness, a continuation of his life in us, here on earth.
Have this attitude in yourselves which was also in Christ Jesus.
Philippians 2:5
Be imitators … of Christ.
1 Corinthians 11:1
You also became imitators … of the Lord.
1 Thessalonians 1:6
And so the symphony continues, community by community, person by person, and life by life, until Jesus returns again when …
… we will be like Him, because we will see Him just as He is.
1 John 3:2
Symphony completed. Perfectly. As the Master designed it. One day. Soon and very soon!
SOURCES:
TechExplore