Jam!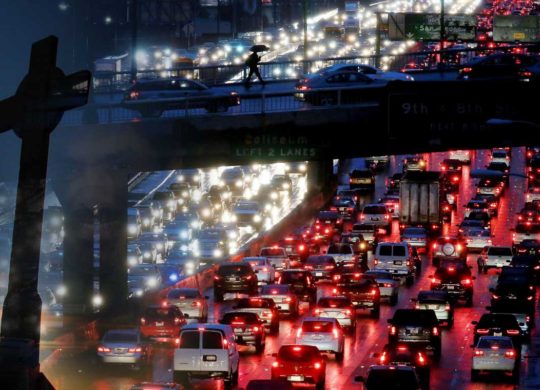 Texas A&M's Transportation Instituted reported:
According to the Urban Mobility Scorecard, travel delays due to traffic congestion caused drivers to waste more than 3 billion gallons of fuel and kept travelers stuck in their cars for nearly 7 billion extra hours—42 hours per rush-hour commuter. The total nationwide price tag: $160 billion, or $960 per commuter."
They say that drivers have to plan more than twice as much travel time as would need in light traffic just to account for bad weather, accidents, construction zones, etc. Drivers on America's Top 10 worst roads waste on average 84 hours or 3.5 days a year on average in gridlock—twice the national average (which is, still, 42 hours!). Six of these roads are in Los Angeles, two in New York and the remaining two in Chicago.
An LA Times poll on what concerns its readership most had 55% rank "traffic and congestion" as their #1 worry! Physical safety, personal finances, housing, and retirement ranked #2–#5!
The A&M study noted that the total cost of these jams (lost time + wasted fuel) exceeds—get this!—$100 billion a year. That's not taking into account environmental pollution caused by idling vehicles and the resulting health consequences.
Austin Frakt, associate professor with Boston University's School of Public Health, blogging about the stress of traffic, observed that sitting in bad traffic also affects psychological well-being, because drivers have this sense of helplessness and the overall unpredictability about time and life in general.
And "Traffic Stress, Vehicular Burden and Well-Being: A Multilevel Analysis" published in Social Science and Medicine had this to say about that:
Perceived traffic stress is associated with both general health status and depression …, such that persons reporting traffic stress had lower health status and more depressive symptoms. … Persons who lived in areas with greater vehicular burden and who reported the most traffic stress also had the lowest health status and greatest depressive symptoms."
Another study found that folks were willing to trade 5 minutes of any of their other leisure activities to save 1 minute of time in traffic! 5 to 1!
And if you thought road-rage happened only on the road, think again. "Traffic and Crime" by Louis-Philippe Beland and Daniel Brent in the Journal of Public Economics linked congestion on the roads with violence inside the home. From 2011 to 2015, extreme evening traffic on I-5 and I-10 in LA increased nighttime domestic violence by 9%.
Said Beland:
Life stressors act as emotional cues. What our work shows is that in extreme cases some people's responses to those cues can be quite large, leading to violence."
Nope, I don't have an answer to traffic jams.
The Bible does have a few things to say about stress, though. Here are some of my personal favorites:
"Do not fear, for I am with you;
Do not anxiously look about you, for I am your God."
Isaiah 41:10
"So do not worry about tomorrow; for tomorrow will care for itself.
Each day has enough trouble of its own."
Matthew 6:34
God is our refuge and strength, A very present help in trouble.
Therefore we will not fear, though the earth should change
And though the mountains slip into the heart of the sea;
Though its waters roar and foam, Though the mountains quake at its swelling pride.
Psalm 46:1–3
The name of the LORD is a strong tower;
The righteous runs into it and is safe.
Proverbs 18:10
Run … and be safe!