Joy!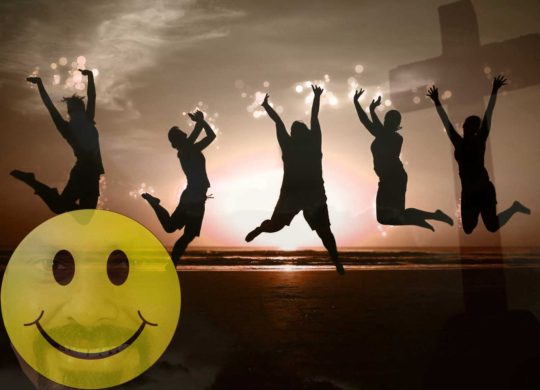 Feeling down? Blue? In the dumps? Sour? Woeful? Lachrymose?
Try smiling more. Research indicates that expressing happiness can actually make us feel a little bit happier."
That was Nicholas Coles, a PhD student in social psychology at the University of Tennessee (UT), lead researcher on "A Meta-Analysis of the Facial Feedback Literature: Effects of Facial Feedback on Emotional Experience Are Small and Variable," published recently in Psychological Bulletin.
Coles and his fellow authors from UT and from Texas A&M report that emotions can be manipulated to some extent by our facial features. The body can influence the mind!
(Of course, you knew that already: that paper cut, that ulcer, that sinus headache—all do a number on your mind and your emotions.)
Coles:
It appears that the physical act of smiling can make us feel happy, that frowning can make us feel sad, and that scowling can make us feel angry."
This idea has been around for over half a century, with some conflicting data showing up in studies, so Coles and his team wanted to examine all the evidence.
And they did. They conducted a meta-analysis of 138 studies conducted over the past 50 years, involving more than 11,000 subjects, from every part of the globe! Quite an impressive bit of work.
And the official word:
The available evidence supports the facial feedback hypothesis' central claim that facial feedback influences emotional experience, although these effects tend to be small and heterogeneous."
In other words, yes, there is an effect. But no, it may not be that potent or long-lasting.
Acknowledged Coles:
A lot of people think that you can smile your way to happiness, but these effects don't seem to be that powerful. We don't think that smiling is a quick fix for depression. Facial expressions like smiling can sometimes influence our emotion, but not always."
One way to be happy … always:
Rejoice in the Lord always; again I will say, rejoice!
Philippians 4:4
In the Lord! Only in God can we find lasting joy.
Be glad in the LORD and rejoice, you righteous ones;
And shout for joy, all you who are upright in heart.
Psalm 32:11
Believers have been saved from the power and penalty of sin, so we rejoice.
But God demonstrates His own love toward us,
in that while we were yet sinners, Christ died for us. …
We also exult in God through our Lord Jesus Christ,
through whom we have now received the reconciliation.
Romans 5:8, 11
And one day we'll be saved even from the very presence of sin. Joy!
"… rejoice that your names are recorded in heaven."
Luke 10:20
Until we get there, we trust in our God who is for us, always!
But let all who take refuge in You be glad, Let them ever sing for joy;
And may You shelter them, That those who love Your name may exult in You.
Psalm 5:11
Rejoice now, rejoice forever.
To the degree that you share the sufferings of Christ, keep on rejoicing,
so that also at the revelation of His glory you may rejoice with exultation.
1 Peter 4:13
Confessed Coles:
We really still have a lot to learn about how these effects work, but they're worth studying because they provide a clue about how the mind and the body interact to shape our conscious experience of emotion. Every day that we study these facial feedback effects, we get a little bit closer to understanding how emotions work. And that's the real reason to smile!"
The real reason:
"And my spirit has rejoiced in God my Savior!"
Luke 1:47